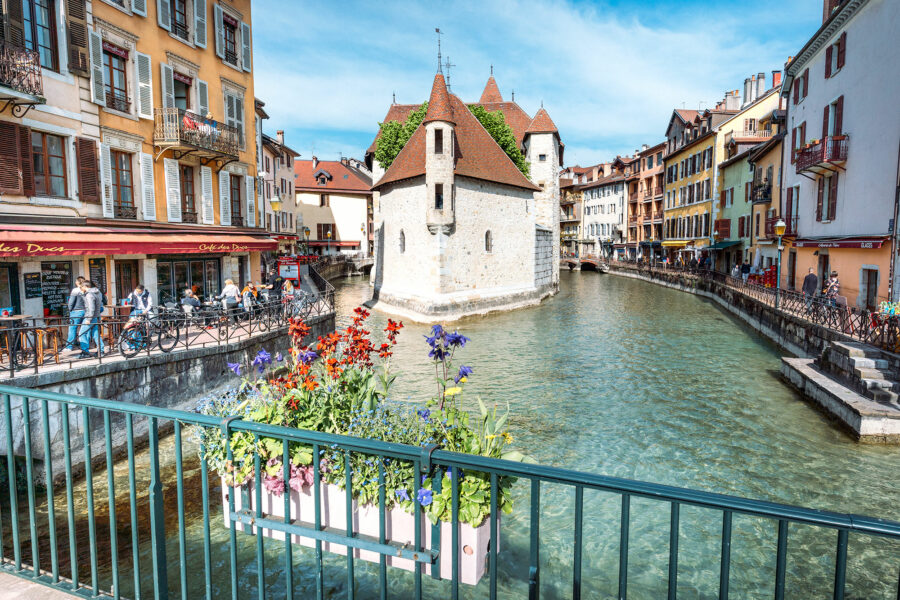 Annecy, France
While France is full of charming places, my favorite has to be the mountain town of Annecy. From lake cruising to farmer's markets — here are the best things to do in Annecy, France!
Annecy is a beautiful lake town in the Haute-Savoie region of France surrounded by mountains on the edge of the Swiss border. The lake, Lac d'Annecy, boasts some of the freshest water in Europe, replenished each year from the snow melt.
The town isn't too big — or too small either. With a very walk-able and bike friendly atmosphere, you can spend many lazy afternoons exploring local shops, snacking at fresh food markets, or take a picnic in one of the many parks.
We spent 2-months living in Annecy as digital nomads with our two kids and cat, and absolutely loved it! So here are some of our best tips for activities and great things to do in Annecy, France.
My Annecy itinerary is completely free! I've worked hard putting it together for you. If you find it useful, please use my affiliate links when you book hotels, rental cars or activities. I'll get paid a small commission, at no extra cost to you! Thanks.
France Travel Restrictions 2022
France is open to most travelers again, including American tourists. However you do need proof of your COVID-19 vaccination(s) or a negative test result before being allowed entry.
Many hotels, attractions, and private tours are open with new health & safety protocols in place, and you still have to follow certain guidelines.
You can find the latest updates on traveling to France here.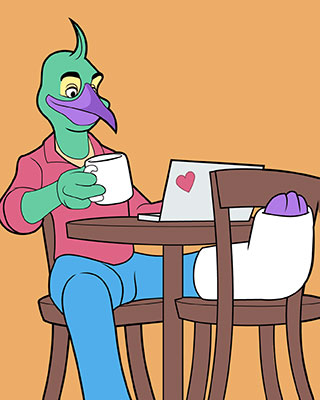 Get Travel Insurance
Protect yourself from injury, illness, or theft. SafetyWing offers affordable travel insurance that covers COVID-19 too!
Annecy France Travel Guide
1: Explore Annecy's Old Town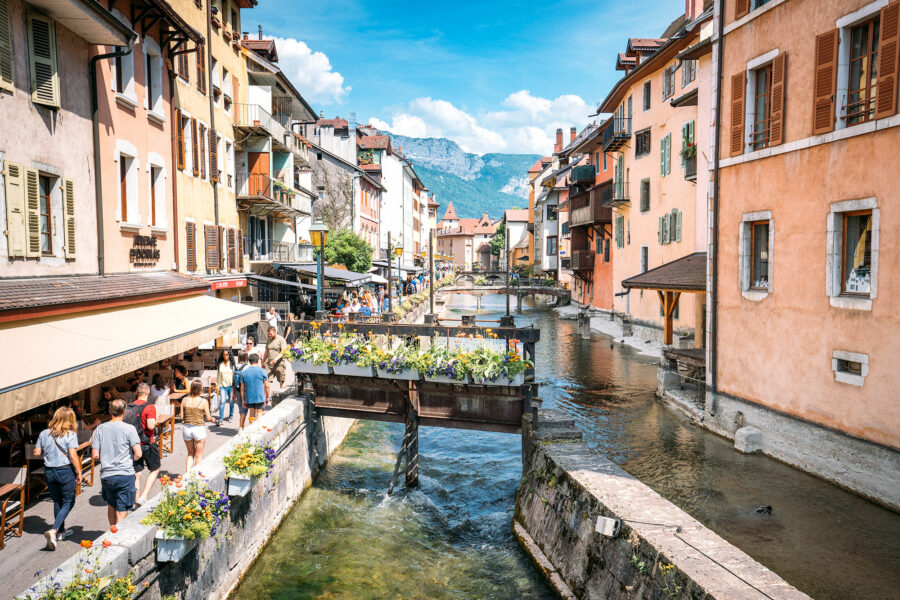 One of the reasons Annecy is so picturesque is the network of canals that make their way through the old town. It's often called the "Venice of France". Annecy's canals are shallow, and not really used for boating, but it still gives the town a charming feel.
Combined with the colorful old buildings, cobblestone streets, and flower boxes, a walk through the Old Town neighborhood of Annecy is always a treat.
You'll catch glimpses of the mountains and lake in the distance, while enjoying the town's many street-side restaurants, cafes, and ice cream shops.
2: Boating On Lake Annecy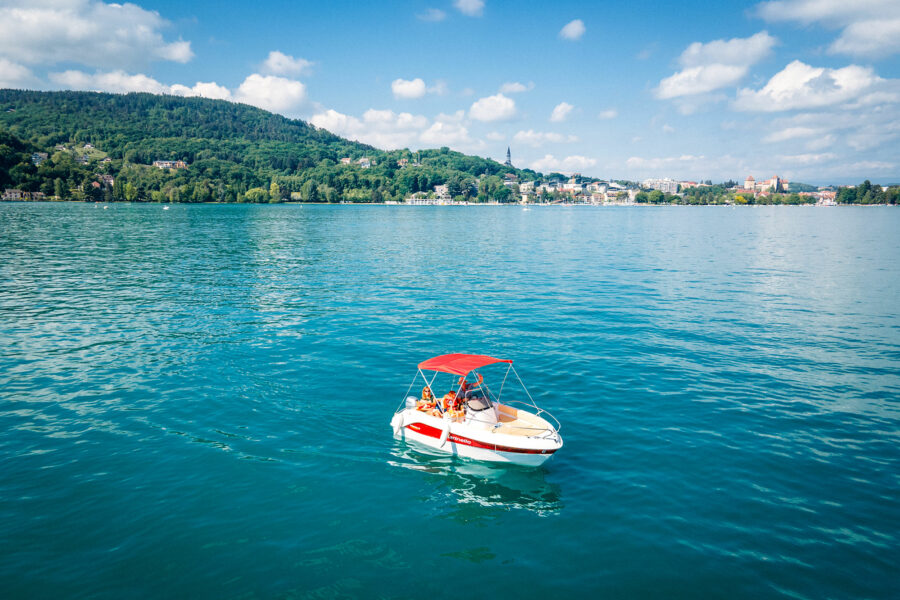 Arguably Annecy's top highlight is Lac d'Annecy, a stunning large blue lake located right on the edge of town. Lake Annecy is France's 3rd largest lake and regularly receives accolades for being the freshest lake in Europe (due to snow melt from the Alps).
The lake is surrounded by mountains, and while cold, is a perfect place to cool off in the summer heat. There are biking paths around it, plenty of beaches, and many opportunities to go boating!
Rent A Pedal Boat – You'll find all kinds of pedal boats available to rent along the lake's edge at Jacquet Promenade. The boats cost about €15 EURO for 30 minutes, depending on size. Some even have slides or diving boards attached!
Rent A Motor Boat – Small 4-5 person motor boats can be rented, and you don't need a boat license either. Some have sunshades, and rentals cost about €65 EURO for an hour.
Join A Lake Tour – There are some large tour boats that will take you around the lake while describing key points of interest. You can even book a table for dinner on the boat!
Go Waterskiing – Waterskiing is a popular pastime on Lake Annecy, and it's possible to book a trip with one of the local water-skiing companies.
Take A Sailing Lesson – You can rent a small sail boat to cruise around the lake, or take a beginner sailing lesson too!
3: Walk Across Lover's Bridge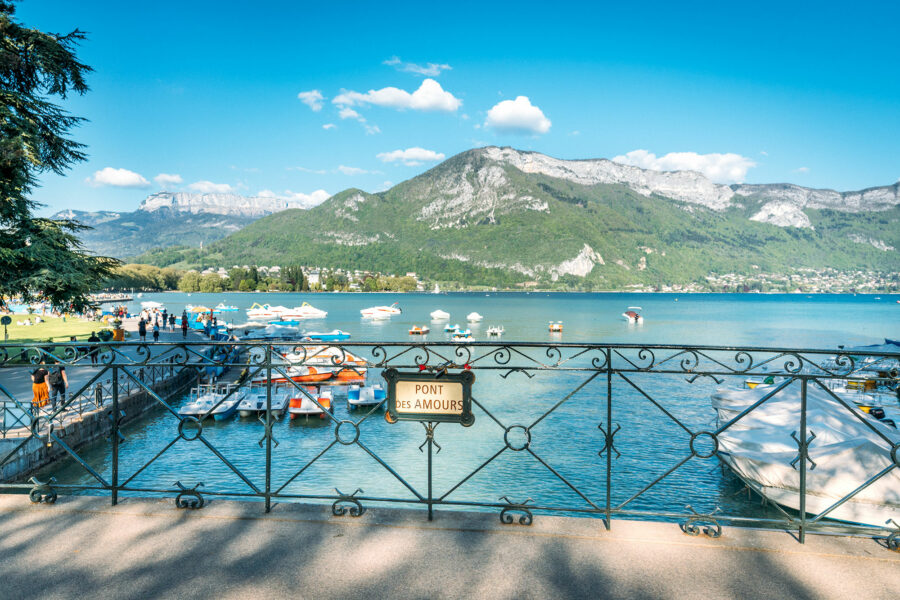 Pont des Amours is an extra pretty and famous bridge on the edge of Lac d'Annecy that spans the Vassé canal and connects the Jardins de l'Europe with the Jacquet Promenade.

Local legend says that lovers who kiss on the bridge will stay together for life.

The bridge has two great views. One looking at the lake itself with mountains in the background, and if you turn around, you'll enjoy a tree-lined canal with wooden boats moored on each side.
4: Picnic At Jardins de l'Europe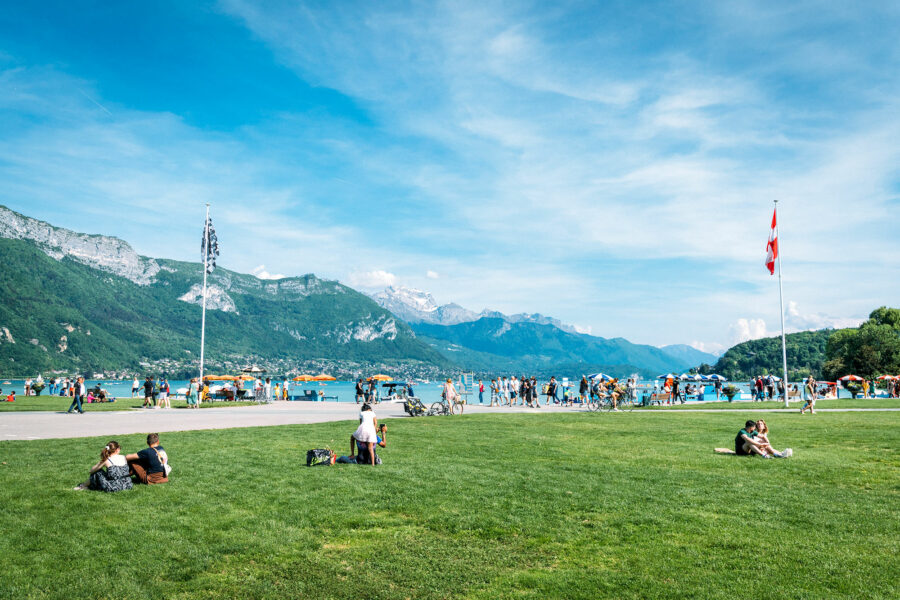 When the weather is nice, walking or biking down to Jardins de l'Europe is a wonderful family friendly activity. This massive park sits on the edge of the lake, with large green fields, boardwalks, and playgrounds.
There's even an old wooden Carousel, originally built in 1871, for kids to ride.
The park is popular for late afternoon picnics — just bring down some wine, cheese, and bread from the markets and a blanket to enjoy the mountain views. A French experience you just can't miss!
5: Explore Annecy Castle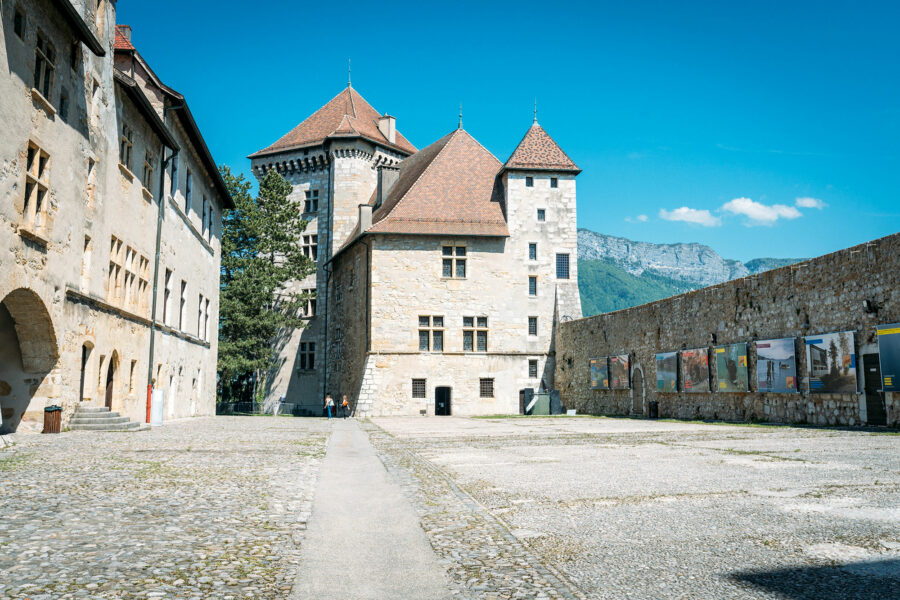 Château d'Annecy is a castle in the heart of Annecy, located on a hill above the town. Originally built as a residence for the Counts of Geneva and the Dukes of Genevois-Nemours from the 13th to 16th centuries.

These days the Chateau houses a museum (Musée-Château d'Annecy), featuring local sculpture, art, and a nature exhibit of animals and fish that are found around the lake. The castle also has some good views of the lake and town from the edge of its walls.
Entry tickets cost about €5 EURO for adults, and are free for kids under 12.
6: Walk The Promenade du Thiou