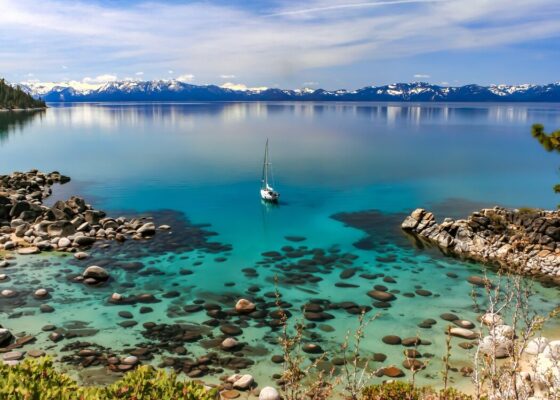 The United States is home to a whopping three million lakes. So chances are pretty high that you're no more than a full tank of gas away from a pristine natural wonder.
Granted, the U.S. is often hailed for its spectacular landscapes, from striking red canyons in Utah to the alpine glaciers of Alaska. The most beautiful lakes in the United States offer something quite extraordinary.
Finding these marvellous lakes may be pretty challenging. And that's why I've done all the work for you. With my insights and tips about these stunning lakes, you'll be visiting some of the most beautiful states in the U.S. and their picturesque lakes in no time.
29 Most Beautiful Lakes in the United States
Ranging from blackwater estuaries surrounded by snow-capped mountains to turquoise lagoons tucked into lush forests, the United States boasts incredible lakes you should see.
With this extensive list of the most stunning lakes in the United States, you can turn a boring weekend into a fun adventure. This includes scenic hiking, camping, swimming, or just admiring the wonder of nature.
So without further ado, let's dive into this list of 29 stunning lakes in the U.S. that you'll love.
1. Lake Powell, Utah and Arizona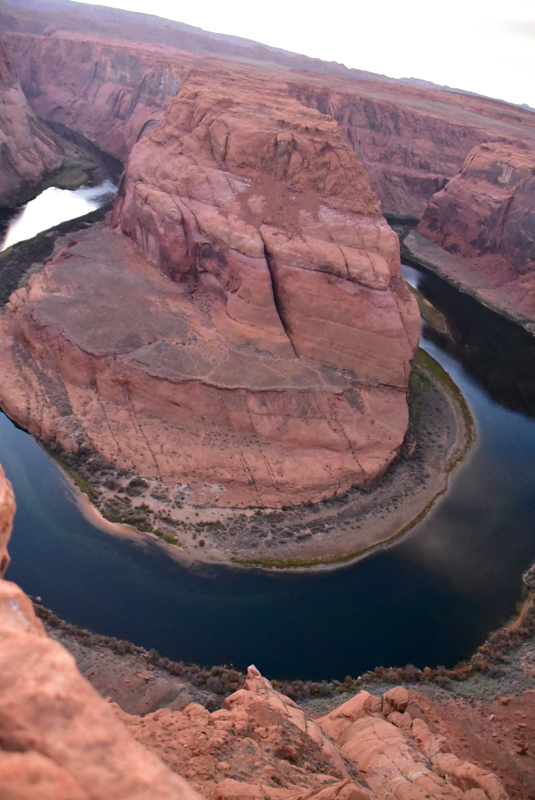 One of the largest man-made lakes in the U.S., this striking natural beauty flows between gorgeous red-orange sandstone cliffs between Utah and Arizona. While the damming of Glen Canyon led to the formation of this lake, the Colorado River made it what it is today.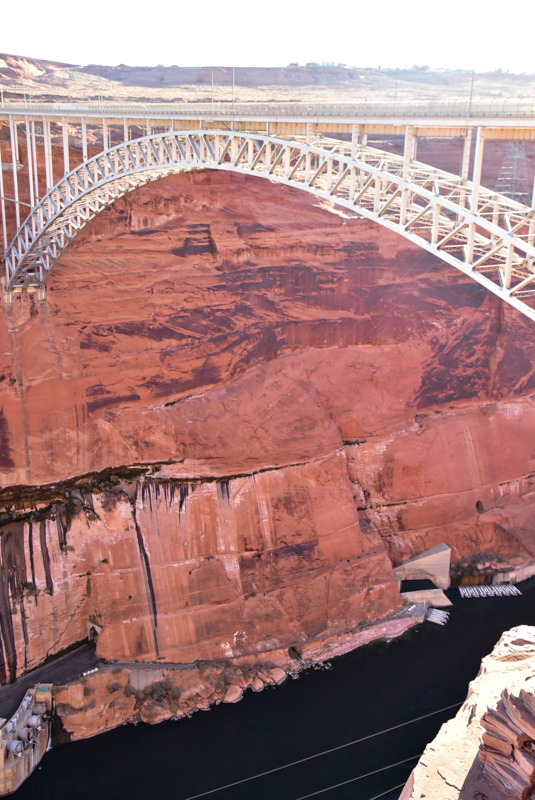 Water sports, fishing, hiking, and the red-sand beaches are some activities that attract millions of visitors to this ethereal, rocky landscape each year.
2. Lake George, New York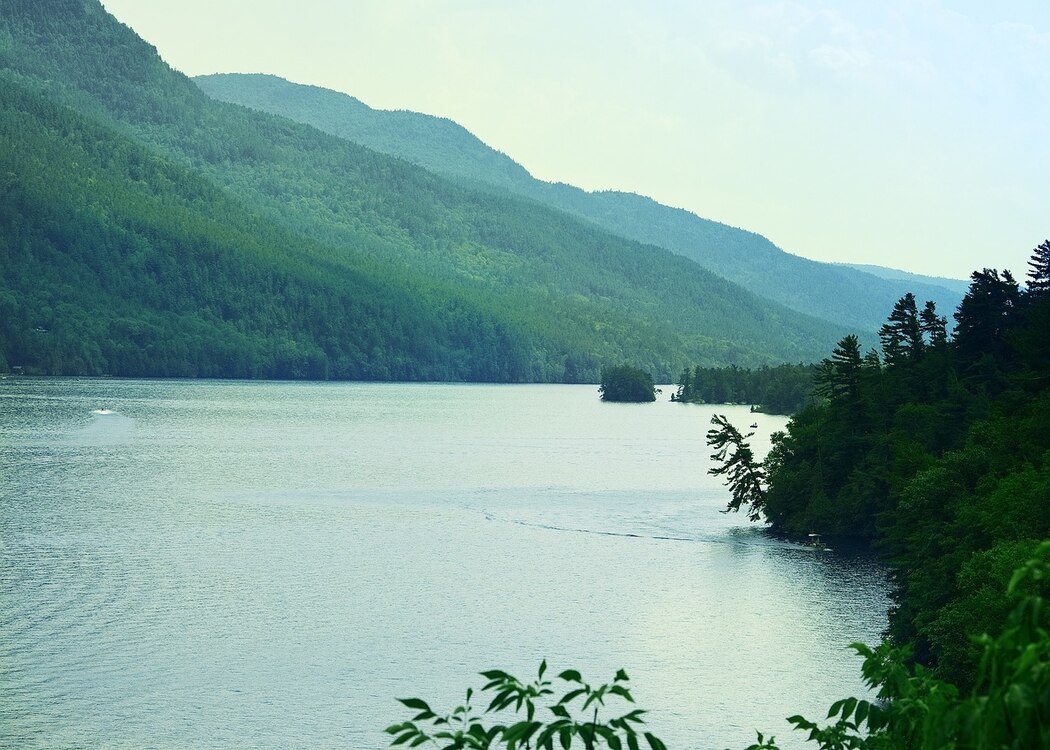 Image by Joel Rollins from Pixabay
Lake George should quickly spring to mind when you think of upstate New York. Nicknamed the "Queen of American Lakes", this clear-water lake is famous for its lakeside luxe resorts, fine dining, and shopping opportunities.
Spanning over 45 square miles, Lake George sits comfortably in the vast Adirondack Mountain range, which has attracted many visitors to northeastern New York for centuries.
3. Lake Tahoe, California and Nevada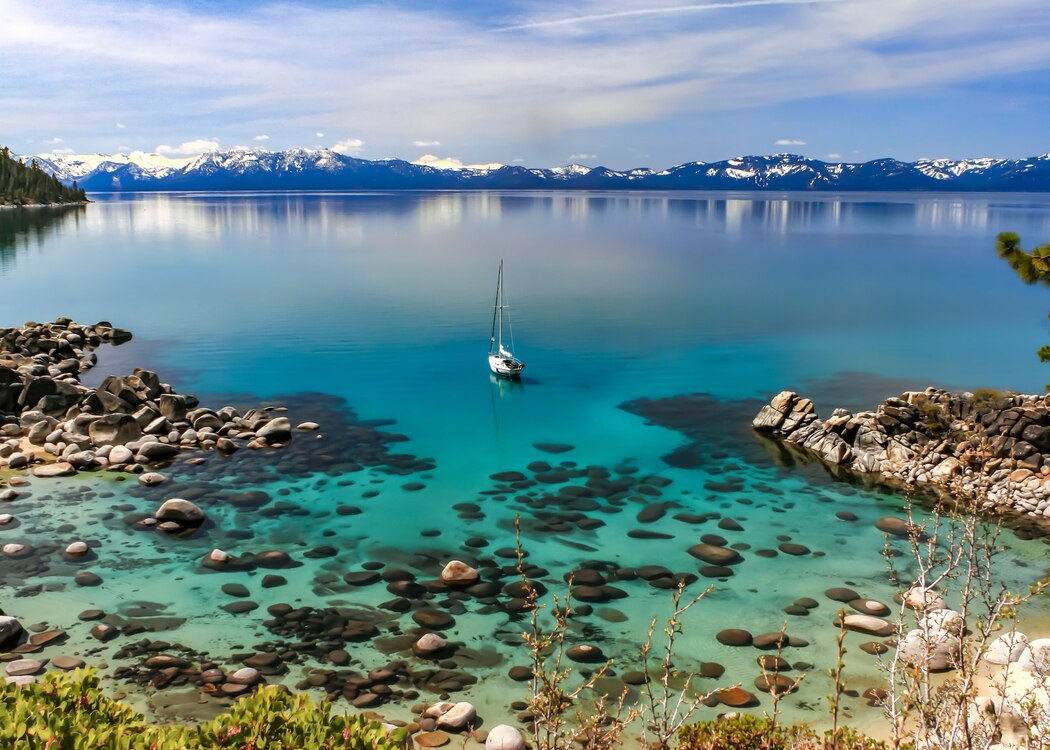 Photo by Tim Peterson on Unsplash
Sitting along the California-Nevada border and surrounded by the scenic snow-capped Sierra Nevada peaks, Lake Tahoe is one of the prettiest lakes in the United States. 
This gorgeous alpine lake boasts a 75-feet average clarity, which may have you thinking you're somewhere in the Caribbean.
Lake Tahoe is a year-round destination offering sparkling blue waters for swimming or paddle boarding in summer. And plenty of ski resorts and surrounding national parks for a winter holiday.
4. Lake Havasu, Arizona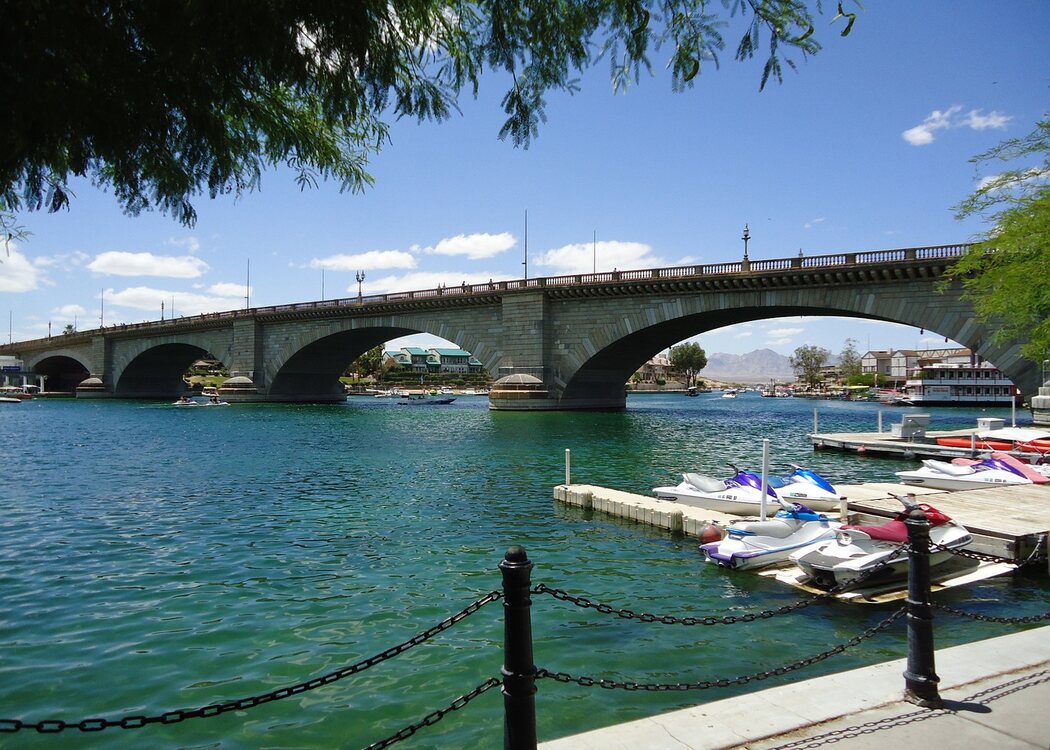 Image by Eric Simon from Pixabay
Arizona landmarks like Lake Havasu often go under the radar. But this pristine turquoise lake is easily one of the most beautiful in the U.S. 
Not only does it feature stunning vistas of blue waterfalls against green vegetation and striking red cliffs, but the lake is also famous for its massive London Bridge (a historical point of interest in its own right). 
Visitors often enjoy boating, fishing, and wildlife spotting around the lake.
5. Crater Lake, Oregon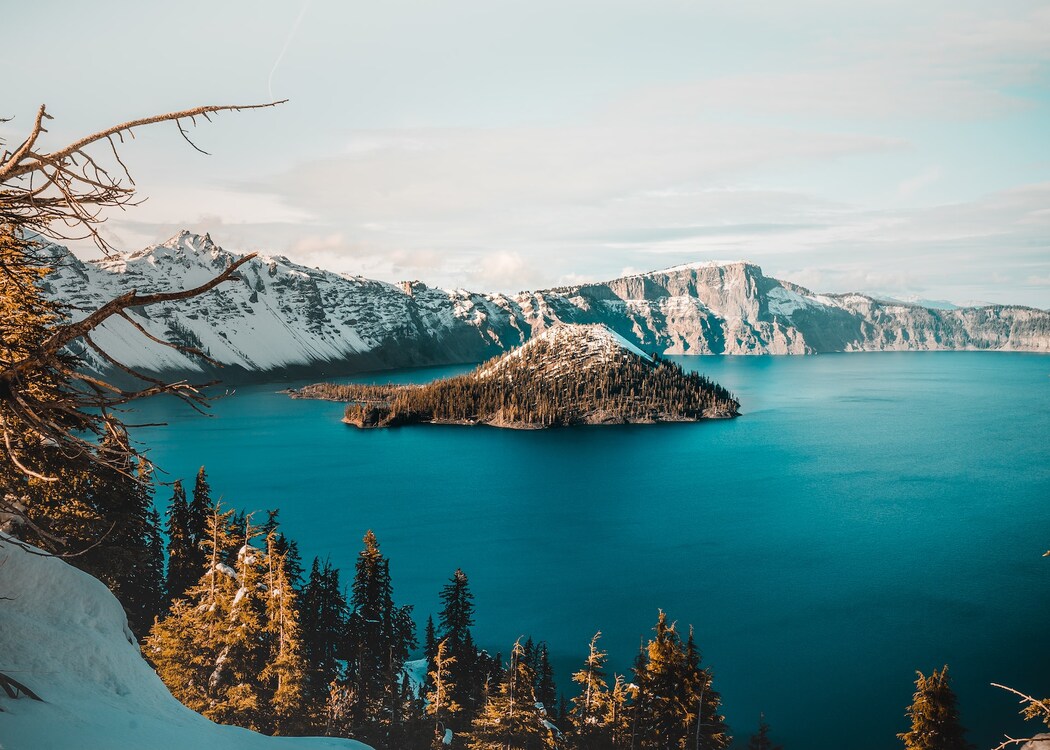 Photo by Jeff Hopper on Unsplash
Arguably the most stunning lake in the United States, Crater Lake in Oregon was uniquely formed by the eruption of Mount Mazama nearly 8,000 years ago. 
Today, America's deepest lake, Crater Lake, is cut off from incoming rivers, only getting filled by rain and snowmelt — keeping it clear all year round. 
And the wonders don't end there. For dramatic effect, Crater Lake hosts the lush Wizard Island and the "Old Man", a 30-foot mountain hemlock log floating in the lake for over a hundred years.
6. Hanging Lake, Colorado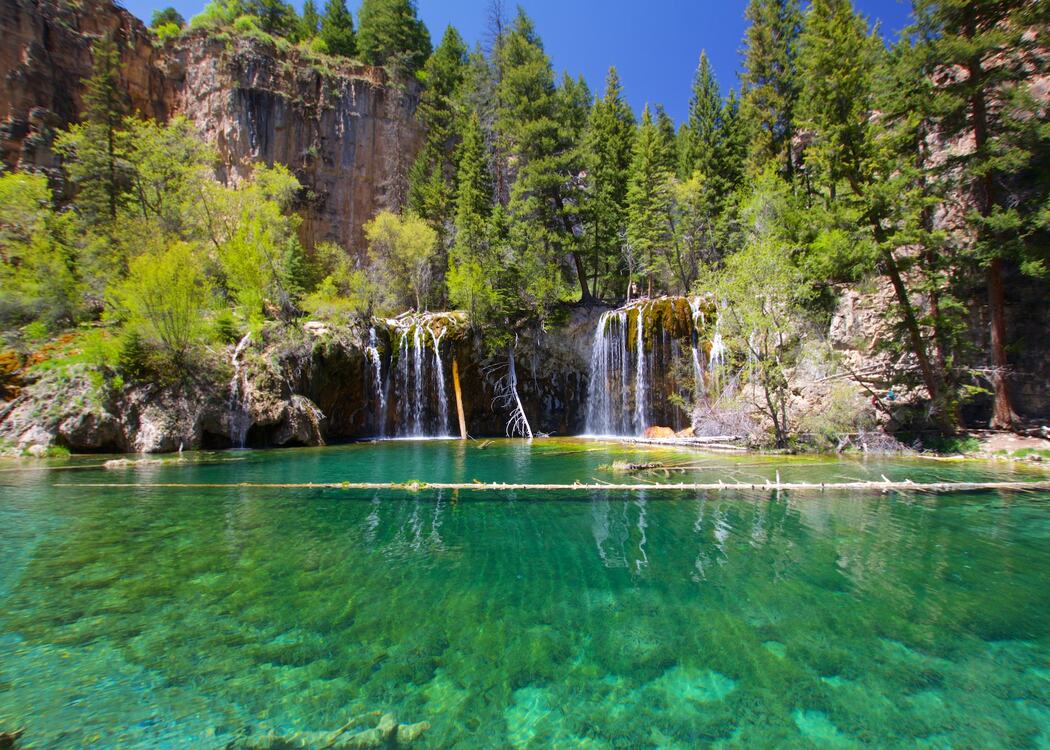 Photo by Steve O on Unsplash
Straddling the edges of the Glenwood Canyon Cliffs, Colorado's Hanging Lake is a spectacular hidden gem. This aquamarine lake is fed by a series of waterfalls and is surrounded by towering forested peaks.
While swimming is not permitted, the payoff is one of Colorado's most famous hikes. A short detour along the Hanging Lake Trail will lead you to the water-sluiced Spouting Rock, which offers sweaty hikers a great place to cool off.
7. Diablo Lake, Washington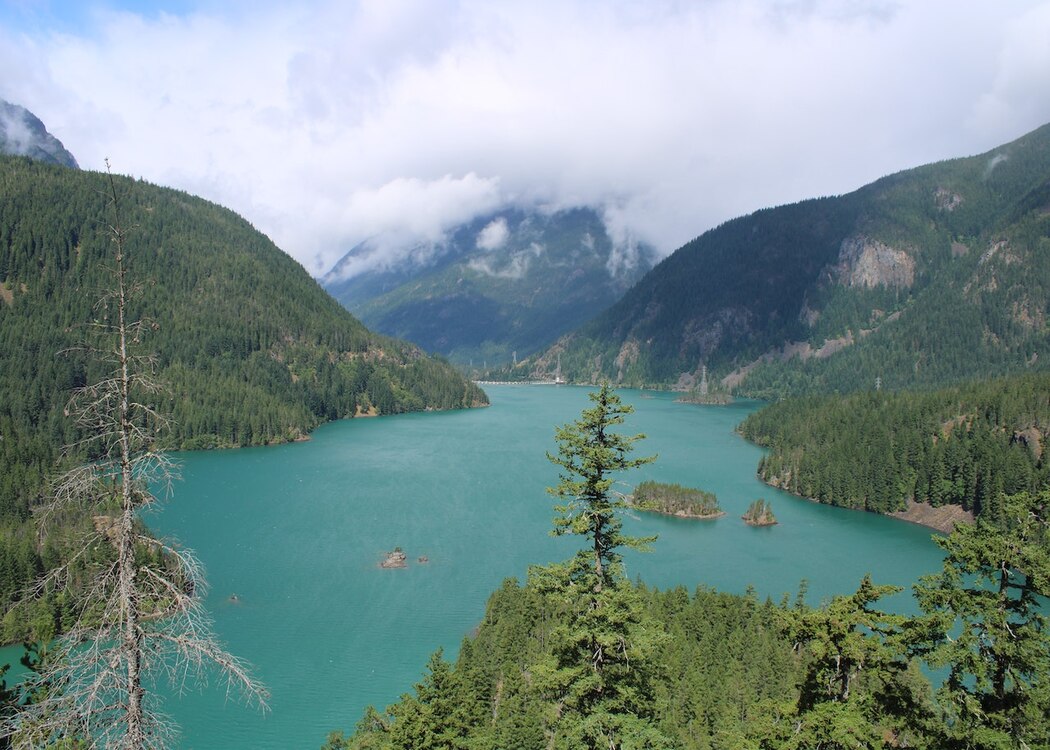 Photo by Margo Schmiederer from Pexels 
Tucked between the rugged terrains and snowy peaks of North Cascades National Park, Diablo Lake offers deep turquoise waters with stunning green backdrops. 
The seven-mile trail to Diablo Lake is filled with plunging gorges, switchbacks, and a 600-foot suspension bridge, making it quite challenging. But once you reach this emerald lagoon, the verdant scenery makes it all worth it.
8. Summersville Lake, West Virginia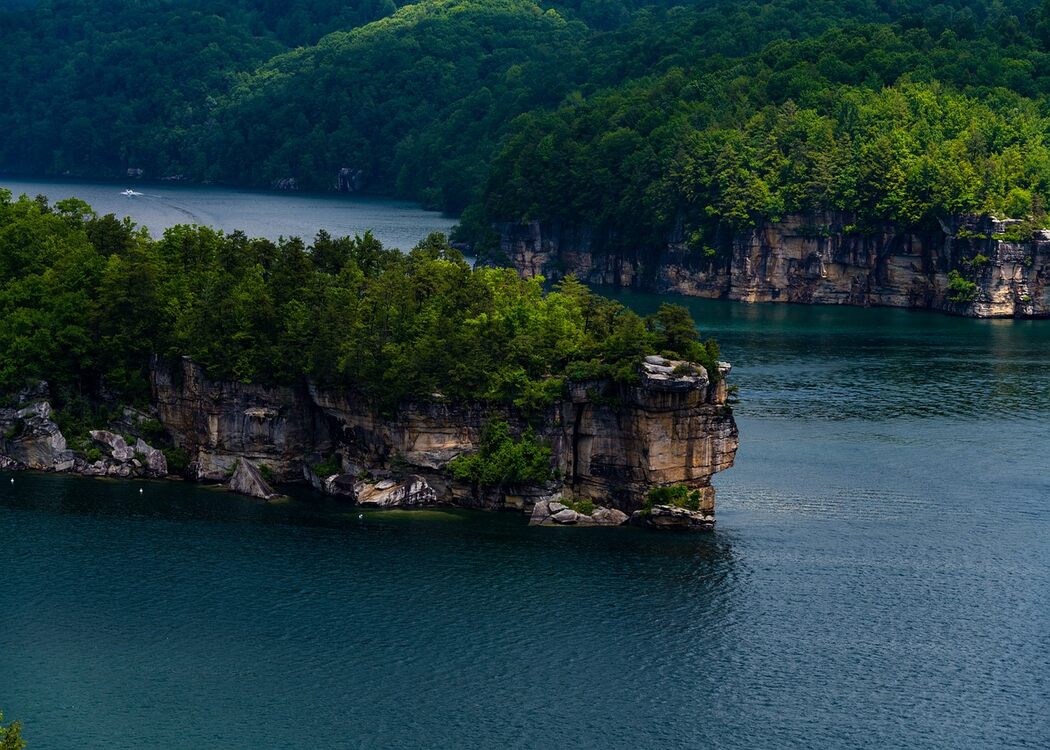 Image by David Frampton from Pixabay
Popular for its protruding green-capped sandstone cliffs and clear freshwater, Summersville Lake gets nearly a million visitors each year. Located just north of the Gauley River, this lake is great for swimming, rock climbing, kayaking, and stand-up paddle boarding. 
Summersville Lake's impressive depth of about 327 feet is the main attraction for scuba divers. The lake is also great for fishing. You can catch various fish species like walleye, catfish, and panfish.
9. Lake Katherine, New Mexico