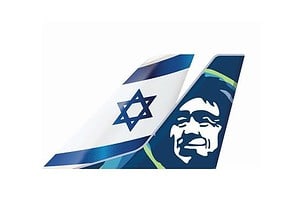 by: Harry Johnson | copyright: eTurboNews - Travel Industry News - World Travel News
---
EL AL Israel Airlines announced new expansion of the frequent flyer partnership with Alaska Airlines, which now allows EL AL Matmid Frequent Flyer Club redeem their points for flights to 120 Alaska Airlines cities.
"Since May 2019, Alaska Airlines and EL AL have had a reciprocal agreement allowing members of their frequent flyer programs to earn points and miles when flying both airlines," said Ronen Galperin, CEO of the Matmid Frequent Flyer Club. "Now that agreement has been extended to offer reciprocal award tickets. Matmid members can use their points for Alaska award tickets."
Alaska Airlines, Air Transport World's 2022 Airline of the Year, will now offer its 120 destinations in the United States, Belize, Canada, Costa Rica and Mexico to Matmid members redeeming points.
At the same time, EL AL Israel Airlines, which operates up to 44 flights a week to Tel Aviv from its five U.S. gateway cities of New York, Newark, Boston, Miami and Los Angeles, offers more opportunities for Mileage Plan members to visit Israel than any other carrier.
"Alaska Airlines has been a great frequent flyer partner to EL AL," said Galperin. "Now that we've expanded our relationship with Alaska, we can offer our Matmid members a special experience. They can enjoy Alaska's award-winning service in the U.S and then connect to our Five Star inflight service to Tel Aviv, using their Matmid points for the entire trip."
EL AL, for two years in a row, has been recognized for offering Five Star inflight service by the APEX Official Airline Ratings. In the APEX survey, passengers rated a million flights operated by 600 different carriers on five elements of inflight service – seat comfort, cabin service, food and beverage, entertainment, and Wi-Fi – and gave EL AL a Five Star rating. EL AL earned the Five Star rating in 2022 and again for 2023.
The following are some of the more popular routes on Alaska and the point totals Matmid members would need to redeem for an award ticket on these routes. Taxes and cash surcharges may also apply.
Popular Alaska Airlines routes with number of Matmid Award points for Economy roundtrip Matmid Award points for First Class roundtrip flight:
Los Angeles-Las Vegas 400/900
Los Angeles-Seattle 600/1300
Los Angeles-San Francisco 400/900
New York-Los Angeles 1000/2300
New York-San Francisco 1000/2300
New York-Seattle 1000/2300
Los Angeles-Portland 600/1300
Los Angeles-San Jose 400/900
The following indicates the Matmid points required for an award ticket on Alaska based on the one-way distance of the trip in miles. Taxes and cash surcharges may also apply.
Distance in miles (one-way) Cabin Award fare in points (roundtrip)
0-599 Economy 400 First 900
600-1249 miles – Economy 600 – First 1,300
1250-1749 miles – Economy 800 – First 1,500
1750-3499 miles – Economy 1000 – First 2,300
3500-4999 miles – Economy 2,000 – First 4,500
5000-6999 miles – Economy 2,600 – First 6,100
plus7000 miles – Economy 3,000 – First 7,100
---
Booking Alaska Airlines flights with El Al Matmid points now">Click here to read the FULL Article.
More news on eTurboNews - Travel Industry News - World Travel News