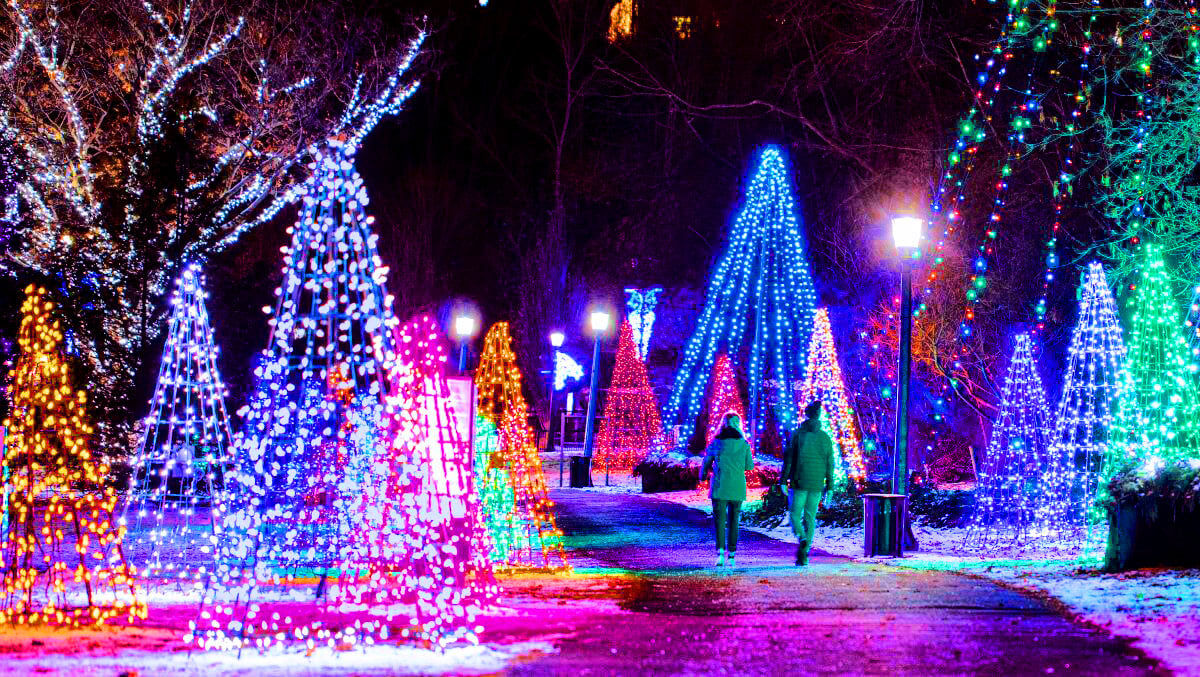 Reading Time: 
4
minutes -
#1 Niagara Falls Winter Festival of Lights
The Niagara Winter Festival of Lights returns this year with animated light installations and amazing projections – all of which will leave you spellbound! The festival literally shines up the entire Niagara Falls destination with its brilliance and dazzles people with its joy.
The Niagara Winter Festival of Lights is FREE and open to everyone! It takes place November 12th to February 20th, 2023 along 8 km of the Niagara Parkway and within Queen Victoria Park, Dufferin Islands, and various tourist areas throughout Niagara Falls including: Clifton Hill, the Victoria Centre, Fallsview Boulevard, and Lundy's Lane. Visitors should come out early and often to catch all the lighting arrangements throughout the festival.
---
#2 Poinsettia Show at the Floral Showhouse
A family holiday tradition for over 65 years featuring poinsettias, cyclamen, azaleas, Christmas cactus and paperwhite narcissus, and many other Christmas surprises.
Open all year long the Floral Showhouse is the perfect tropical oasis to escape from the hustle and bustle of everyday life. Collections of orchids, succulents, and other tropical plant species are on display throughout the year that reflect the changing seasons.
Featuring over 1,400 poinsettias along with cyclamen, azaleas and colourful lighting installations.
---
#3 Safari Lights
Safari Lights is a family-friendly, drive-through holiday journey, surrounded by the twinkle of holiday lights. Sing along to Christmas tunes as you cruise through a dazzling landscape. Safari Niagara transforms the outdoor park space into a 3-kilometer, twinkling Christmas landscape with over a million lights. It's a drive-through light journey, creating a wonderful, warm and safe experience for the young… and the young-at-heart.
---
#4 Niagara Falls Fireworks
Celebrate the Holidays with Fireworks at Niagara Falls
Beginning December 26 and continuing each night through to January 1, fireworks will return with spectacular displays over the Falls this holiday season, adding to celebrations taking place across the destination. 
November: 12, 18-19, 25-26 at 8:00pm
December: 2-3, 9-10, 16-17, 23-24, 26-31 at 8:00pm
December 31 * NYE at 12:00am
January: 1-7, 13-14, 20-21, 27-28 at 8:00pm
February: 3-4, 10-11, 17-20 at 8:00pm
---
#5 Niagara Falls Christmas Market
The Downtown Niagara Falls BIA (NFBIA) will be hosting an outdoor Christmas market that will last 6 weekends long. The Christmas Market will take place on Friday, Saturday, and Sundays beginning on November 13th after the Santa Claus Parade.
The Christmas Market will be reoccurring every weekend November 12th until December 18th from 5:00 pm – 10:00 pm on Friday's, 1:00 pm – 10:00 pm on Saturday's, and from 11:00 am – 4:00 pm on Sunday's. This unique experience will feature a variety of different local vendors each weekend, including food, artists, handmade goods and more! The market will also feature a unique Christmas display, and stunning outdoor lighting from the Winter Festival of Lights.
---
#6 Fallsview Casino's Christmas On Ice
Christmas Wonderland is quite simply one of the most delightful and enchanting Christmas shows ever.  The New York style Christmas spectacular is now making its way to Niagara! Complete with glittering costumes, a dazzling cast, your favourite Christmas songs and the highest kicking Chorus Girls this side of the North Pole!
Start Christmas in style as Santa and his merry helpers take you on an unforgettable nostalgic Christmas journey with your favourite songs such as White Christmas, Winter Wonderland, Have Yourself a Merry Little Christmas, Jingle Bells, Rockin' Around the Christmas Tree, Santa Claus is coming to town, All I want for Christmas is You and many more…
At OLG Stage at Fallsview Casino Thursday, November 24th 2022 through Friday, December 9th 2022
---
The post Christmas Events In Niagara You Don't Want To Miss appeared first on Niagara Falls Blog.