I'd dreamt of backpacking and hiking in Idaho's Sawtooth Mountains for quite sometime. Although I didn't know much about them, a past coworker of mine once told me the area was one of her favorite places to visit, so I mentally bookmarked the Sawtooth Mountains as a "must-do" future adventure.
When the time finally came for Michael and I to continue our van travels up into Idaho, I immediately did some researching for epic backpacking adventures in the Sawtooths.
That's when I came across the Alice Lake hike.
I was looking for something beautiful, dog friendly, and easily accomplished in 2-3 days, and Alice Lake met all the qualifications.
In fact, this area of the Sawtooth Mountains absolutely took our breath away.
I'm so glad that our first introduction to the Sawtooth Range was the Alice Lake area, because it is hands-down one of the most beautiful trails I've ever been on (and I've been on a LOT of beautiful trails).
We decided to do the full Alice-Toxaway Loop during our trip (which, btw is SO WORTH IT), but this guide will also cover the Alice Lake hike which is easily done in a day or extended as a backpacking trip for a chill weekend.
Plus, I'll share the details about the Alice-Toxaway Loop if you are looking for a bit more of a challenge and extra-epic scenery and viewpoints to boot.
Let's get started shall we?
P.S. Be sure to check out my video of the full Alice-Toxaway Loop if you want to see just how freaking beautiful this trail is. You'll find it in Section 9!
---
New to Outdoor Backpacking?
Join me and one badass group of women on a transformational adventure, where you will learn how to confidently go on your first ever (or perhaps your first solo) outdoor backpacking trip without the constant fear of getting lost, the crippling worry of being unprepared, and the lurking feeling that you lack the "know-how" and skills required to stay safe on the trails. Click below to learn more about my one-of-a-kind backpacking program, Become an Outdoor Backpacking Badass!

I Want to Start Backpacking!

---
WHAT WE WILL COVER IN THIS GUIDE: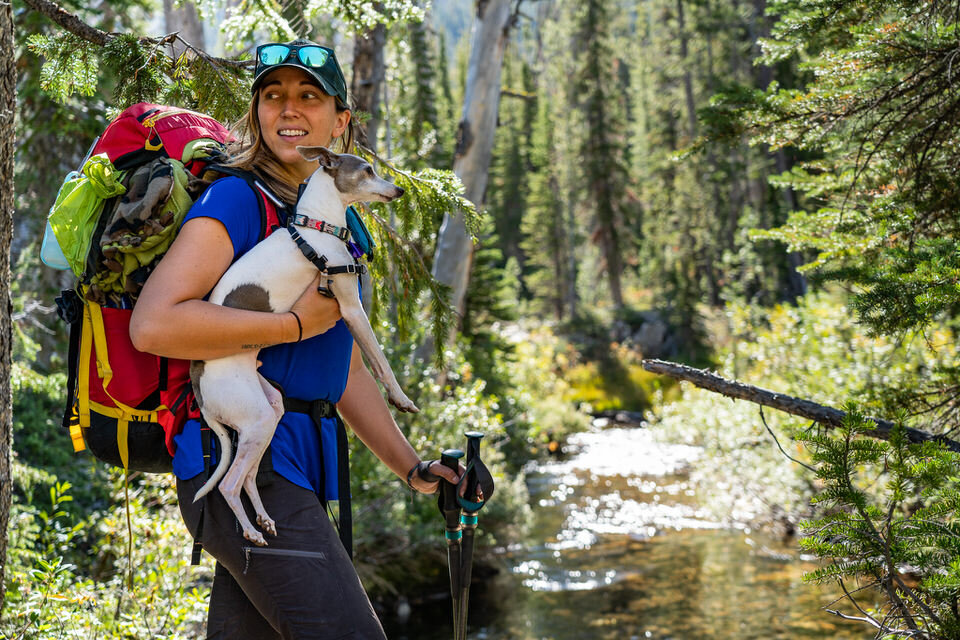 If you're new to my site, let me tell you one thing: I like to write EPIC trail guides. Like one-stop-shop, absolutely everything you need trail guides.
I want you to know as much as possible for your adventures into the mountains, so you can feel fully ready and prepared for any trip you embark on.
Plus, I'm told organization and planning are some of my biggest superpowers, so I might as well put them to good use here for you. :)
With that said, there is a lot of information in this post, so if you are looking for something specific, feel free to skip ahead to one of the below categories. This Alice Lake trail guide will cover the following:
1. Alice Lake Hiking Trail Specifics - Stats baby! All the juicy data for the trail. How many miles, elevation gain, & more.
2. Alice Lake Hike Reservations and Permits – We cover the kind of permits you need to hike this trail.
3. Alice Lake Trail Map & GPX File – I love maps and outdoor navigation, so I've created a map detailing the whole trail that you can explore. You can also download this file as a GPX file to upload into your own personal GPS device.
4. Best Time to Visit Alice Lake (When to Go) - Details about the best time to hike Alice Lake Sawtooth Mountains and typical weather to expect on your trip.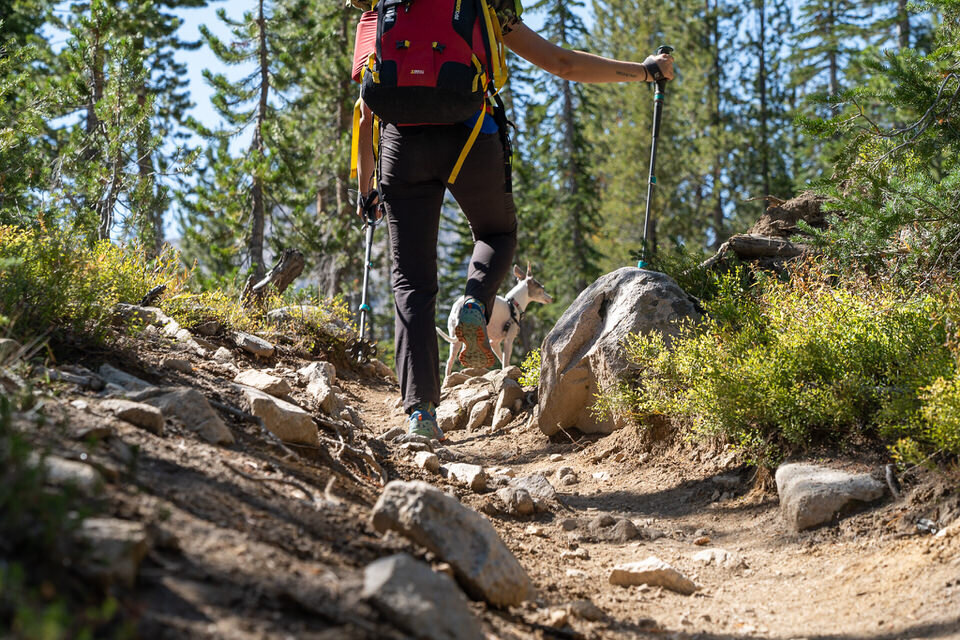 5. How to Get to Alice Lake in Idaho - Where is Alice Lake located and how do you get there? (Hint: near Pettit Lake, Idaho)
6. Alice Lake Camping - Details on the camping situation in and around Alice Lake.
7. Hazards & Challenges of Hiking the Alice Lake Trail – a short list of the top hazards and challenges you might face along this trail.
8. What to Bring on the Alice Lake Hike - The essential items you should bring when backpacking Alice Lake.
9. Itinerary for Hiking the Alice Lake Trail - I'll walk you through an ideal itinerary for your Alice Lake hiking or backpacking trip.
10. Backpacking the Entire Alice-Toxaway Loop. – If you're up for a bigger challenge in Idaho's Sawtooth Mountains, then I want to share the Alice-Toxaway Loop itinerary and map with you. I think you'll love it!.
Plus, be sure to check out the bottom of this post to find more ultimate hiking trail guides in the US and other additional hiking, camping and backpacking resources!
---
GRAB MY [FREE] OUTDOOR BACKPACKER STARTER KIT:
This Starter Kit is filled with some actionable steps, checklist, and outdoor empowerment awesomeness to get you kick-started on an amazing outdoor-centered future.
---
1. Alice Lake Hiking Trail Specifics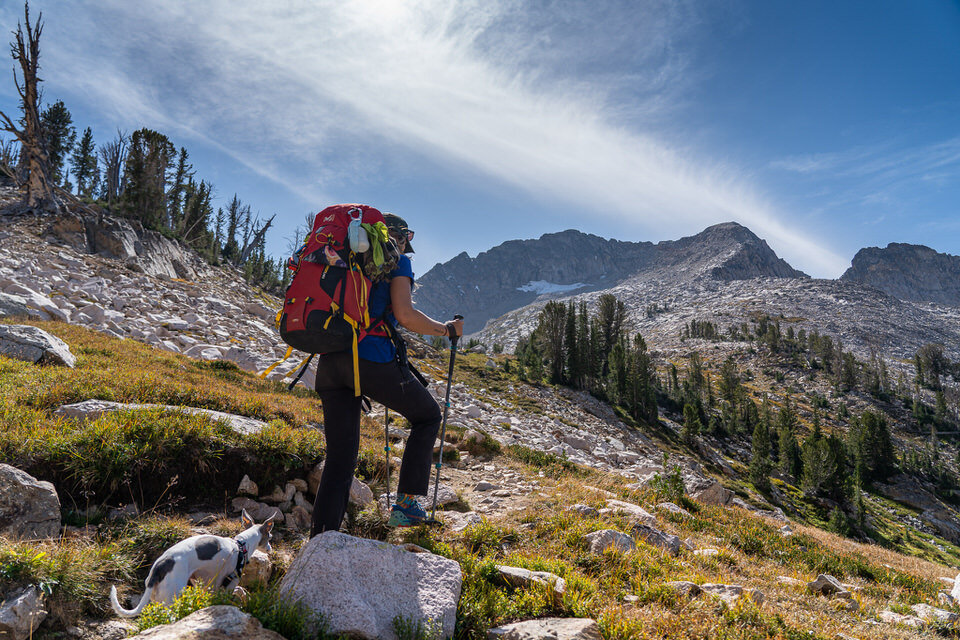 To say the Alice Lake hike is a "beautiful" hike just doesn't seem to do it justice. It's jaw-dropping, exciting, surrounded by tall, jagged peaks commonly called the "Dragon's Back", and is a hike filled with so many opportunities of side adventures and extensions.
You can't go wrong choosing to hike on the Alice Lake trail.
A Few Quick Facts About the Alice Lake Hike:
Trail to Alice Lake: Starts at Tin Cup Trailhead (near Pettit Lake) and heads toward Alice Lake

Type of Trail: Out and Back (if only hiking Alice Lake), can be connected into a loop commonly called the Alice-Toxaway Loop

How many miles is the hike to Alice Lake: ~12 miles round trip, but you can extend the trip to Twin Lakes if you want to hike a bit further (~2 miles extra round trip), OR backpack the entire loop (see section 10 for more details on the Alice Loop)

Total Elevation Gain: ~2000 feet total elevation gain to Alice Lake and back

Alice Lake Hike Trailhead: Tin Cup Trailhead (at Pettit Lake Campground)

Trailhead Elevation: 7,048 feet

How long does it take to hike Alice Lake? Plan a full day for hiking to Alice Lake, especially if you want to spend time relaxing and enjoying the area. The day hike could take anywhere from 5 to 8 hours, depending on your pace.

Alice Lake Crowds: The hike to Alice Lake is a pretty popular hike in the Sawtooth Mountains, especially if you go during the summer and on the weekends. Expect to share the trail, particularly for the day hike with other hiking parties.

Do you need a permit to hike to Alice Lake? Yes, you'll need a backcountry permit (no fee). See my permit section below for more details.

How difficult is the Alice Lake hike? While there is 2,000 feet of elevation gain on this trail, we found it to be nice and steady (not too steep) and well spread out over the hike. If you're new to hiking, expect that this will be a physical challenge since the hike is mostly uphill on the way to Alice Lake, but you'll get a nice consistent downhill for your return back to the car. I'd rate it as a "moderate" day hike, but do consider your own abilities and experience before attempting the trail.

Is there drinking water available along the Alice Lake trail? Yes. There are two big lakes (Pettit Lake and Alice Lake), plus a number of river crossings where you can fill up on water. If you're day hiking, you may be able to get by with 3 liters of water, but it's always smart to pack a water filter just in case you need to fill up. Check out my packing list below for my recommended water filters.

Is hiking Alice Lake dog-friendly? Yes! Dogs are allowed to hike with you (on leash) in the Sawtooth Mountains in Idaho. In fact, there are signs in the backcountry on the Alice Lake Trail that showed dogs were even allowed "off-leash" after Labor Day (I'm guessing because the crowds are less).

What kind of fish can I find at Alice Lake? Brook Trout are the most common type of fish you'll find in Alice Lake.
---
2. Alice Lake Hike Reservations and Permits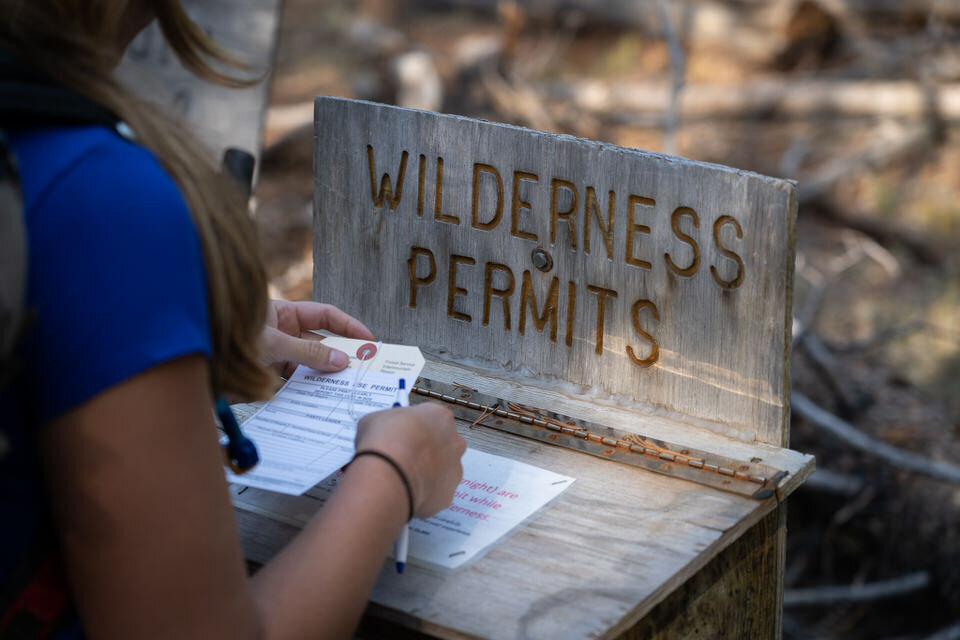 Compared to many of my adventures getting permits in California, getting a permit to hike in this area of the Sawtooth mountains is a breeze.
Is a permit required? A permit is required, but it is essentially a "walk-up" permit.
Where do I get my permit to hike the Alice Lake Trail? At about 1.2 miles into your hike, you'll run into free permit box. It's a wooden stand along the trail located at the wilderness boundary. You won't miss it.
Do I still need a permit if I'm not backpacking or camping overnight? Even if you're only day-hiking you still need to fill it out. So, take a moment, fill out the slip of paper, and then continue onwards with your hike.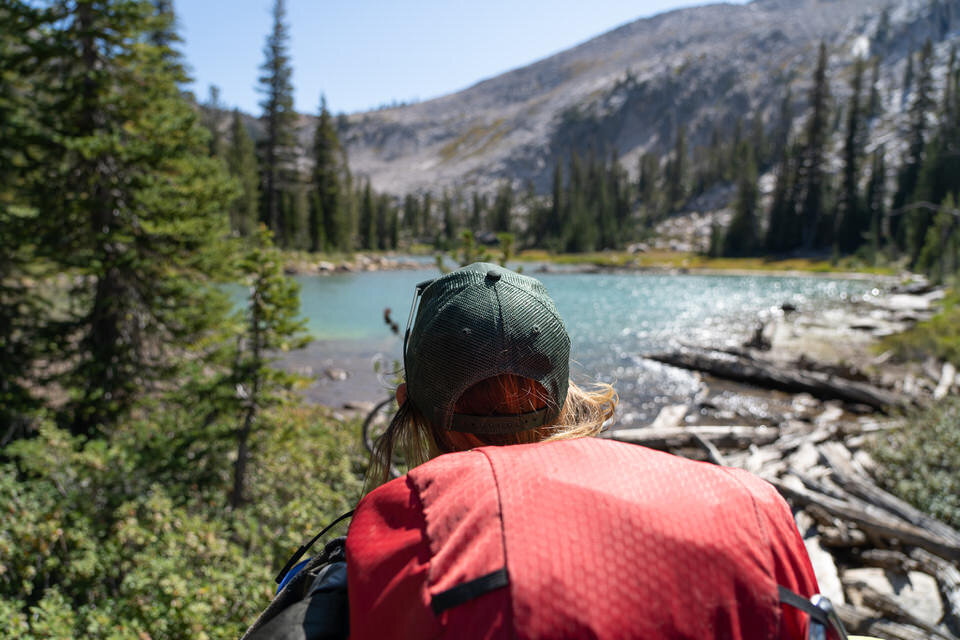 Other useful Permit Information and Regulations:
Groups of 8 or more (or any overnight stock use) must obtain their permits from a Forest Service Office.

Groups may not exceed 12 people and 14 heads of stock from May 1-November 30.

Camp at least 100 feet from trails, lakes, and streams (this is a key Leave No Trace principle).

There are strict rules about campfires – campfires must be on a fire pan or fire blanket, and are not allowed in certain areas of the Sawtooths. So be sure to educate yourself before going if you want to have a campfire.
---
3. Alice Lake Trail Map & GPX File
The trail to Alice Lake is pretty straight forward and easy to follow. The main thing you need to pay attention to is to hike clockwise from Tin Cup Trailhead to go toward Alice Lake.
Your hike will skirt along Pettit Lake as you get started. If you start hiking away from Pettit Lake, then you're going counter-clockwise (which by the way, is an awesome option for the Alice-Toxaway Loop, if you're doing that).
Below is my Alice Lake trail map. It details all the key milestones of the hike including the trailhead start.
You can find the "GPX tracks" for this hike to load into your own GPS below.
DOWNLOAD THE GPX FILE FOR THIS TRAIL!
Knowledge is power my friend, and I'm a girl who loves data. Get access to this trails GPX file PLUS my library of GPX files with tracks and waypoints for all the trails loaded onto the She Dreams of Alpine blog.
Load this puppy into your trusted GPS and rest easy knowing you have tracks to follow on your next hike or backpacking trip.
DON'T HAVE A GPS? YOU SHOULD.
Look, I believe every hiker and backpacker should be self-sufficient, and that includes knowing how to practice smart navigational skills in the outdoors.
This is something I teach in my backpacking program, but I want to give you a couple GPS options to get started. Don't ever risk getting lost, and don't rely on other people for your safety outdoors.
Be empowered and take 100% ownership for yourself, my friend.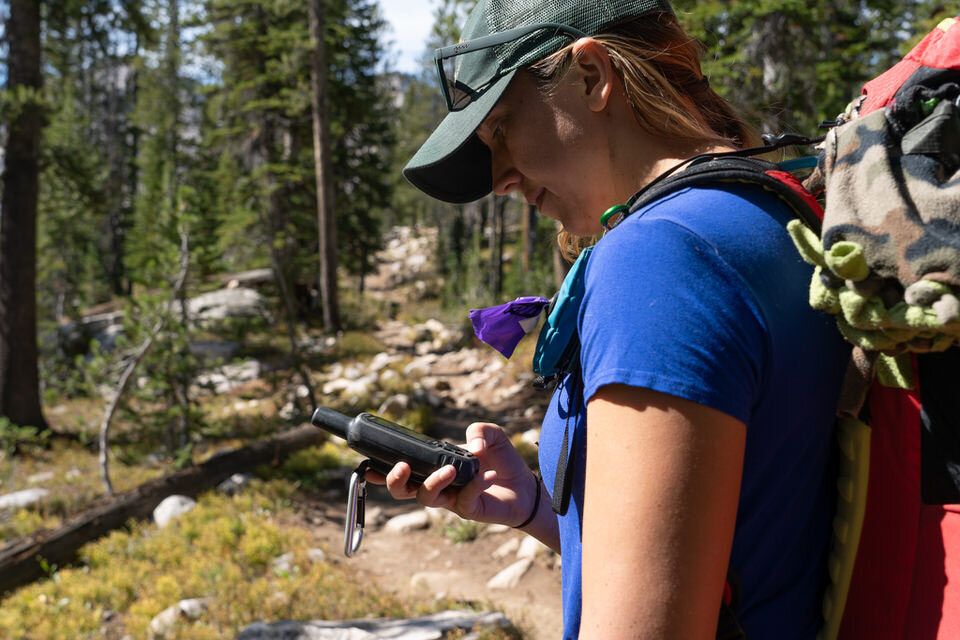 (Please note the below links may contain affiliate links)
Here's what I recommend:
1) GAIA GPS Phone App: At a bare minimum, consider getting a premium subscription to GAIA GPS App. This App allows you to download maps in advance and take them offline into the backcountry. You can record your tracks, upload tracks from online to follow (like the one I have above), and so much more with this phone app, and GAIA is offering a special discount to those who subscribe online through my link above, 20% off their normal prices. But even if you don't use my link... please, at a minimum get a GPS phone app to help you navigate outdoors!
2) Handheld GPS: If you hike often or go backpacki