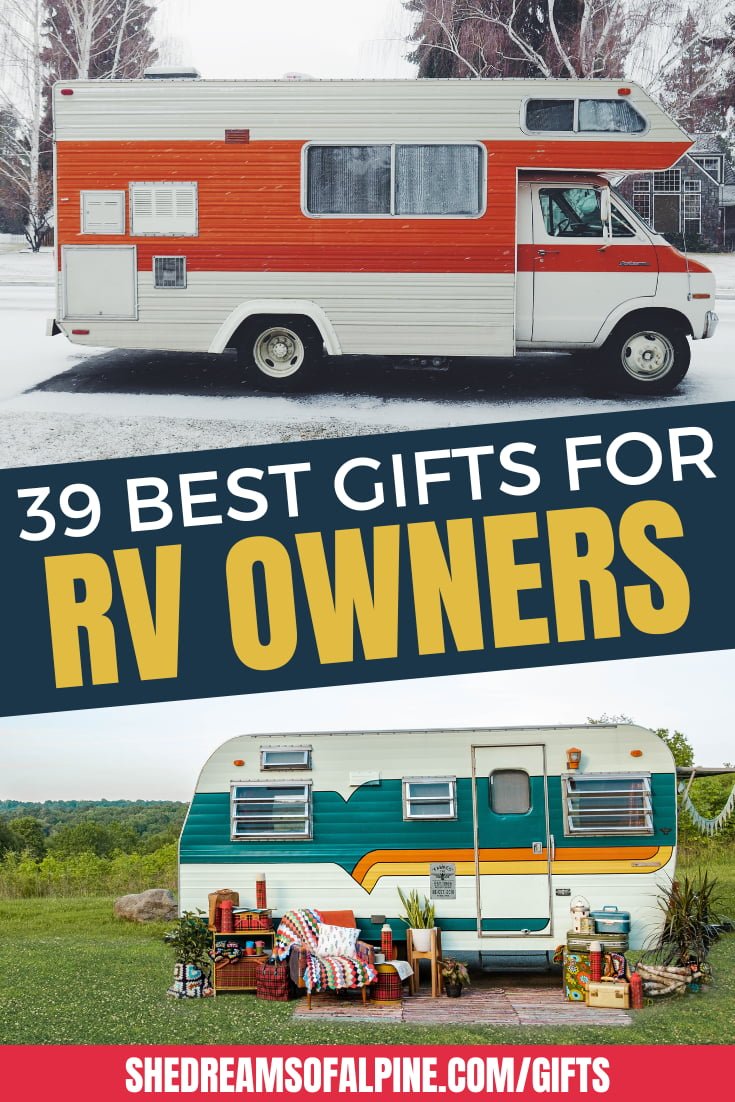 Whether they're living life on the road full-time or just taking lots of road trips, nomadic RV owners can seem hard to shop for. How do you find gifts for RV owners that are worth taking up valuable space in the RV and won't be left behind when they hit the road?
This guide will help you pick fun and practical gifts that RV owners will adore!
ABOUT THIS GUIDE TO GIFTS FOR RV OWNERS
We've made it easy to find the best gifts for RV owners! This guide is split up into the following categories, so you can quickly find exactly what you're looking for:
Gifts for RV Owners Under $25 - More than just stocking stuffers!

Handy Kitchen Gifts for RV Owners - Upgrade their cooking game with these gifts.

Great Books for RV Owners - Lots of road trip inspiration & stories.

Cozy Gift Ideas for RV Owners - Help them stay comfy & warm on the road.

Just for Fun Gifts for RV Owners - Unique gifts to elevate RV life.
You can head straight to the section that seems right for the RV owner you're shopping for, or check out all the sections to get lots of gift ideas for RV owners.
The gifts in this guide are geared to RV Owners. If you're looking for fun gifts for gifts for climbers, gifts for hikers, gifts for backpackers, & more, check out our other outdoor gift guides!
*Please note: The below post contains affiliate links.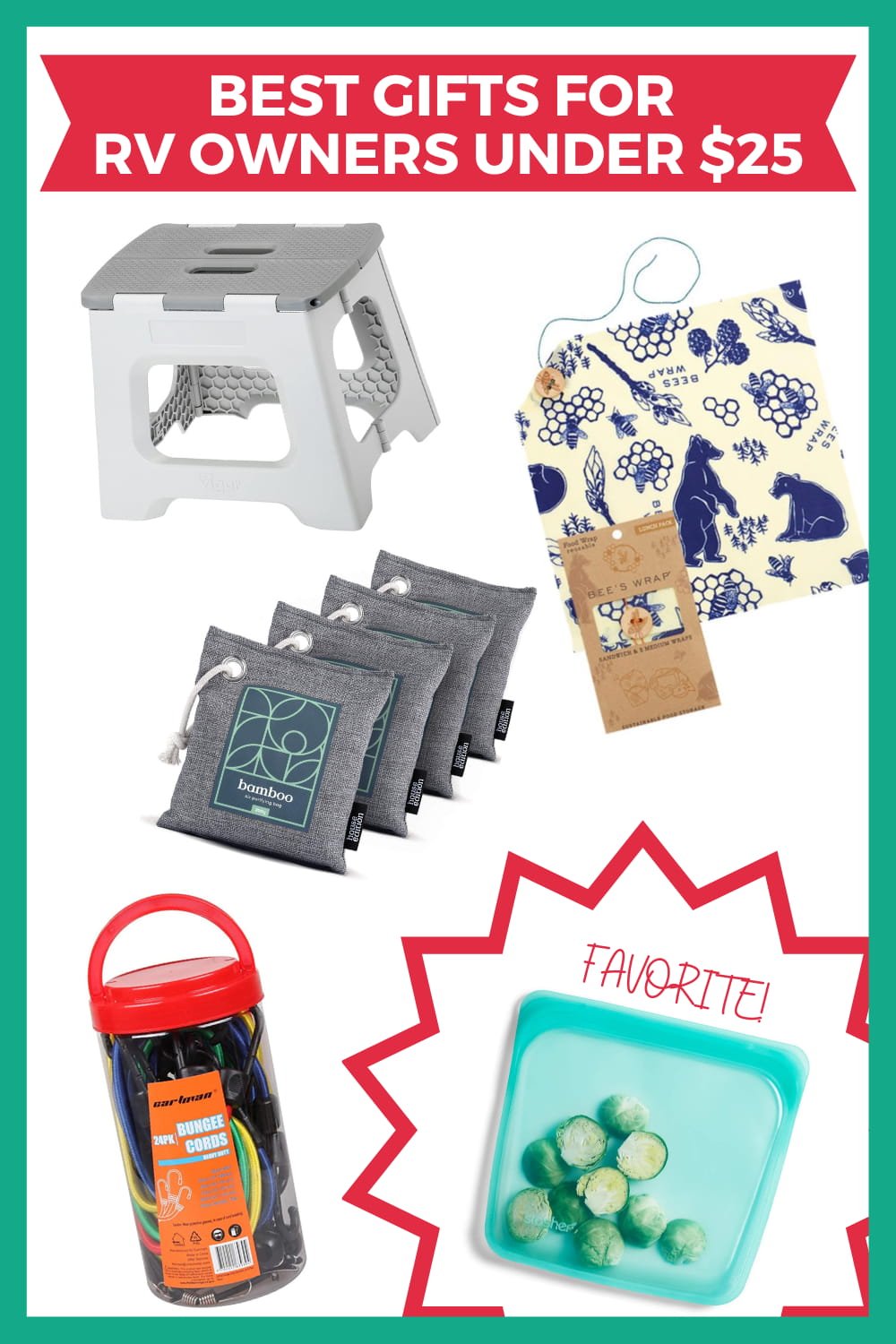 BEST GIFTS FOR RV OWNERS UNDER $25
1. BUNGEE CORDS 
When you're on the road in an RV, you realize quickly that everything needs to be secured in some way, and bungee cords are indispensable! Any RV owner would appreciate the gift of a bunch of bungee cords to keep things in place, and a set like this with a variety of lengths will definitely come in handy constantly. 
Buy Bungee Cords Here
2. BEE'S WRAP 
When space is at a premium, like in an RV kitchen, even storing a roll of plastic wrap can be a problem – plus, it's not great for the environment. But Bee's Wrap solves both those issues! Made of cotton covered in beeswax, these wraps store flat but can be shaped to keep a variety of food and snacks covered. They are also washable and reusable.
Buy Bee's Wrap Here
3. CHARCOAL AIR PURIFIER 
If you're spending an extended amount of time in an RV, you might start to notice that it starts smelling a little less than fresh. Charcoal air purifiers naturally absorb odors without adding a fake scent. This pack of 4 can be stashed or hung around the RV to keep it smelling nice, and it will be a much-appreciated gift for motorhome owners.
Buy the Charcoal Air Purifier Here
4. FOLDING STEP STOOL  
A step stool is a super practical gift for an RV owner, making it easier to get in and out of the RV and to access the ladder and awnings, among lots of other uses. A folding step stool like this one is great because it collapses to easily store in the RV when it's not being used.
Buy the Folding Step Stool Here
 5. STASHER BAGS 
Reusable silicone Stasher bags belong in every RV kitchen since they make it simple to store food without taking up any unnecessary space. Stasher bags come in a variety of sizes and colors, and the half-gallon bag works especially well for storing prepped meals and leftovers. 
Buy Stasher Reusable Food Bags Here
6. UCO SPROUT LANTERN 
It's always handy to have a little extra light in and around an RV, and this tiny little lantern adds a bit of brightness when you need it. The LED lantern runs on AA batteries, and can be attached just about anywhere with its magnetic lanyard. This would be an awesome stocking stuffer for any RV owner!
Buy the UCO Sprout Lantern Here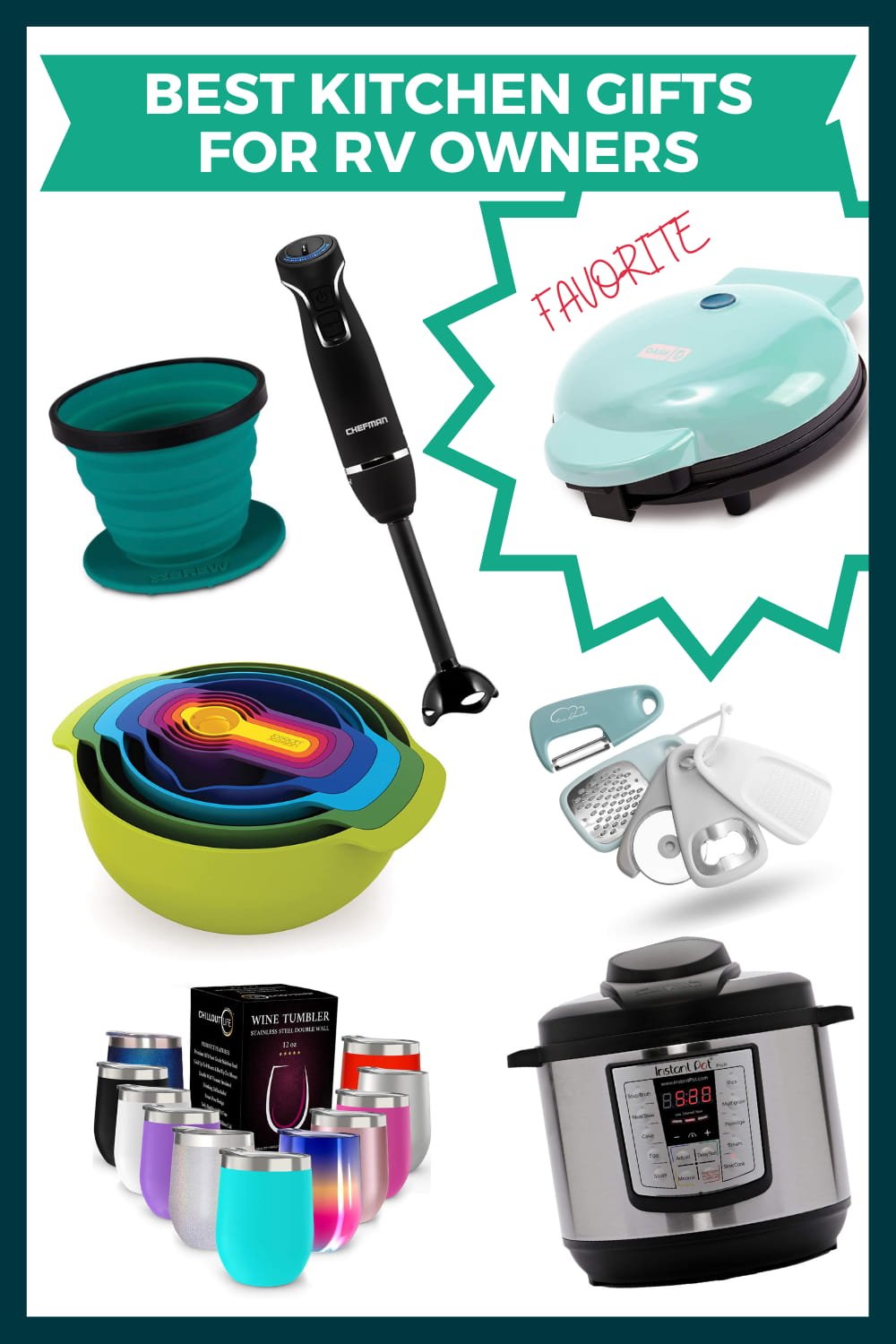 HANDY KITCHEN GIFTS FOR RV OWNERS
7. INSTANT POT 
While it's not just RVers that adore the Instant Pot, it's especially useful in an RV kitchen where space is super tight. The smallest Instant Pot (6 quarts) will still take up some space, but it packs such a punch with what it can do that it's totally worth it.
Of course, you can make hearty stews, rice, and grains in it, but did you know you can also bake banana bread, make hard-boiled eggs, and even cook dessert in the Instant Pot? This is the gift that will keep on giving delicious meals!
Buy an Instant Pot Here
 8. SEA TO SUMMIT X-BREW COFFEE DRIPPER
You still need coffee when you wake up in an RV, and the Sea to Summit X-Brew Coffee Dripper is the perfect space-saving coffee maker for your favorite caffeine fiend.
This silicone dripper makes a great pour over cup of joe without the need for a paper filter, and it collapses flat for easy storage in a small RV kitchen. Combine it with a bag of their favorite coffee, and you will fuel many road trips.
Buy the Sea to Summit X-Brew Coffee Dripper Here
9. STAINLESS STEEL WINE TUMBLER 
Michael and I own a set of these stainless steel wine tumblers, and what we love most about them is that they have lids! Small spaces mean we are often bumping into each other, so it's nice to have a little extra protection from spilling your wine, especially when you're on the road.
Buy a Stainless Steel Wine Tumbler (with Lid) Here
10. KELTY CAMP KITCHEN ORGANIZER
Keep your RV kitchen organized with the Kelty Camp Galley Deluxe Bag, which basically acts like a portable kitchen cupboard where you can store plates, utensils, kitchen tools, spices and more. This bag makes it easy to take your whole camp kitchen in and out of the RV for dining al fresco.
Bundle it with the Kelty Chef Roll Bag, which holds more kitchen tools and fits inside the Camp Galley Bag, for a truly excellent gift for RV owners!
Buy the Kelty Camp Galley Deluxe Bag Here
Buy the Kelty Chef Roll Bag Here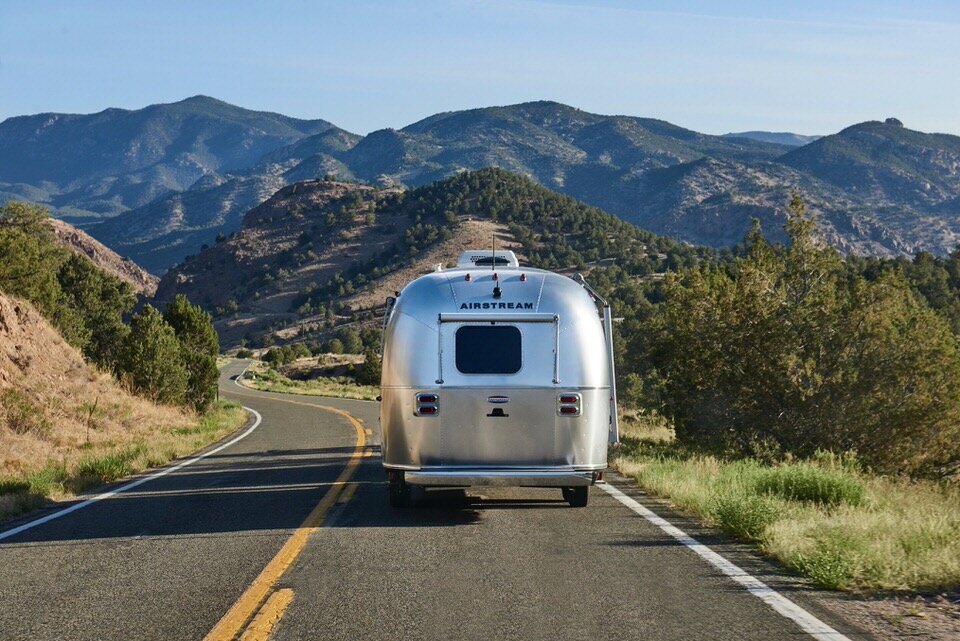 11. NESTING BOWLS
Nothing could be better for an RV kitchen than nesting bowls! And this set includes more than just mixing bowls – it also has a colander, strainer, measuring cups, and a tablespoon, giving an RV owner just about everything they need to stock their kitchen.
Buy Nesting Bowls Here
 12. COMPACT KITCHEN GADGETS
In an RV kitchen, you don't have extra space for non-essential things, but this compact set of kitchen gadgets provides some useful tools that can easily be stored away. Featuring a grater, a grinder, a veggie peeler, a pizza slicer, and a can opener, this would be an awesome gift for an RV chef, especially combined with the nesting bowl set mentioned above.
Buy Compact Kitchen Gadgets Here
 13. IMMERSION BLENDER
Another crucial kitchen space saver is an immersion blender. A regular blender is far too big for an RV kitchen, but a handheld stick blender allows RV owners to make smoothies, soups, sauces, and more, all in a small package that can be stored away without taking up counter space.
Buy an Immersion Blender Here
14. MINI WAFFLE MAKER
This little mini waffle maker is the most adorable addition to any RV-Owners kitchen, and it takes up hardly any space! It's the perfect little motorhome Christmas gift.
Buy a Miniature Waffle Maker Here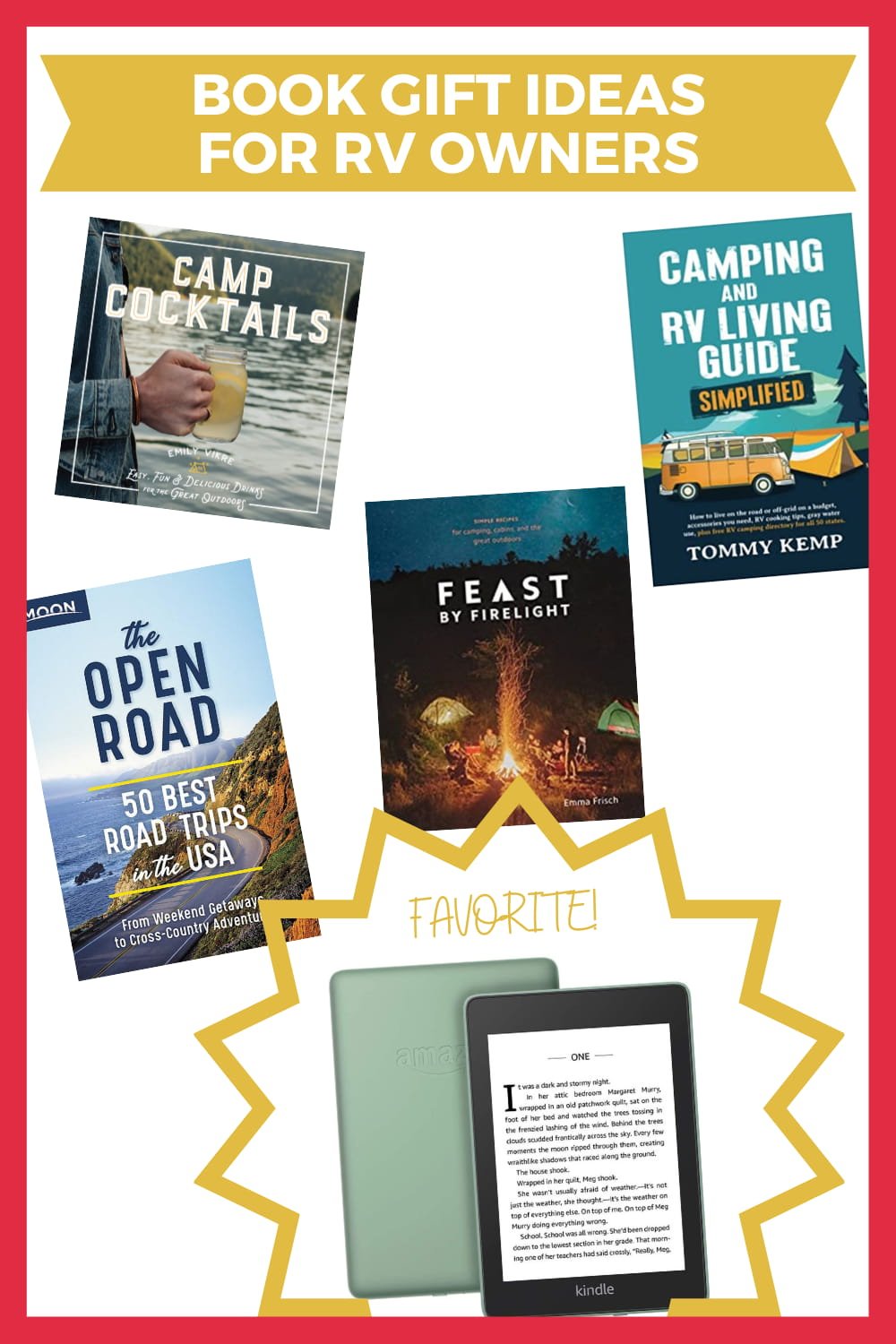 GREAT BOOKS FOR RV OWNERS
15. KINDLE PAPERWHITE E-READER
The Kindle Paperwhite – now waterproof with 2x the storage space – is another GREAT gift for RV owners who love to read. There is not a lot of space in a motorhome, so this is the perfect solution for keeping a stocked library with minimal storage space. I use my Kindle nearly every night in our campervan.