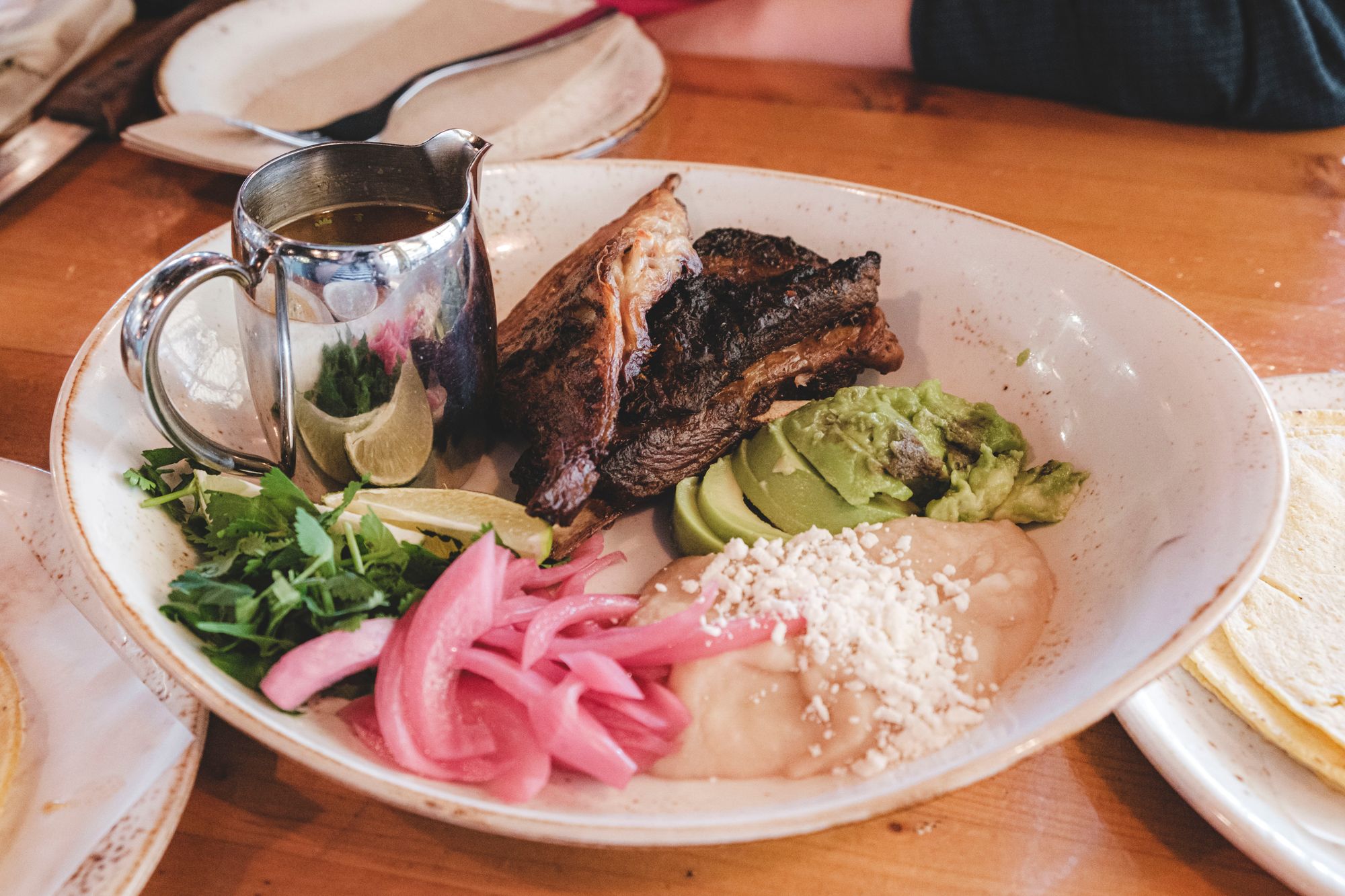 Vancouver has its fair share of taco shops but these are a fast-fry experience whose number one mission is to deliver tortillas and protein into your stomach as fast as possible. Alimentaria Mexicana on Granville Island is a cantina that slows things down and gives diners a chance to try higher quality proteins and entrees. It'll cost more than your average taco shop, but there's nothing else like it in the area. Join me in my visit to Alimentaria Mexicana this past weekend to see if this is the experience for you.
Food:
Team Tastic came here for a weekend lunch and I had a great taste of the following:
Rajas Con Queso ($20)
Beef Birria ($21)
Lamb Belly Barbacoa ($33)
The rajas con queso was our appetizer of choice and to be honest, I was hoping for something thicker. Sure, the poblano peppers, onions, crema, and cheese did have a cheesy flavour but it spilled right out of the corn tortillas because the queso was so wet. Maybe opt for the esquites instead if you're looking to share an appetizer.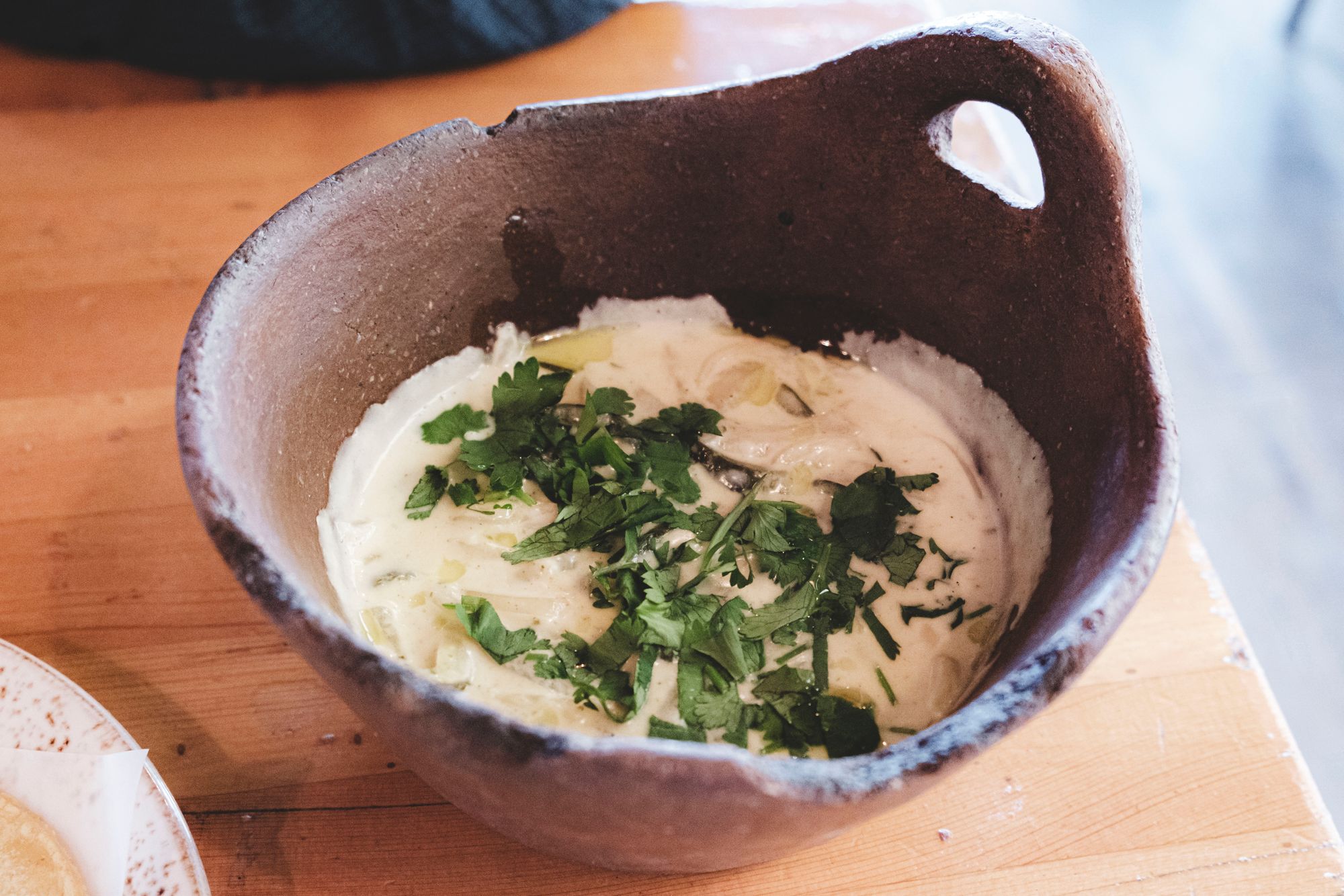 If you're up for tacos, Alimentaria will deliver. If you are a birria junkie like me, you won't be disappointed by the beef birria here. Made with braised beef, birria consommé, Mexican spices, and served in three flour tortillas, these tacos had a satisfying crisp you wouldn't get in a traditional pinche shop and the consommé had a ton of flavour that begged you to double-dip your tacos.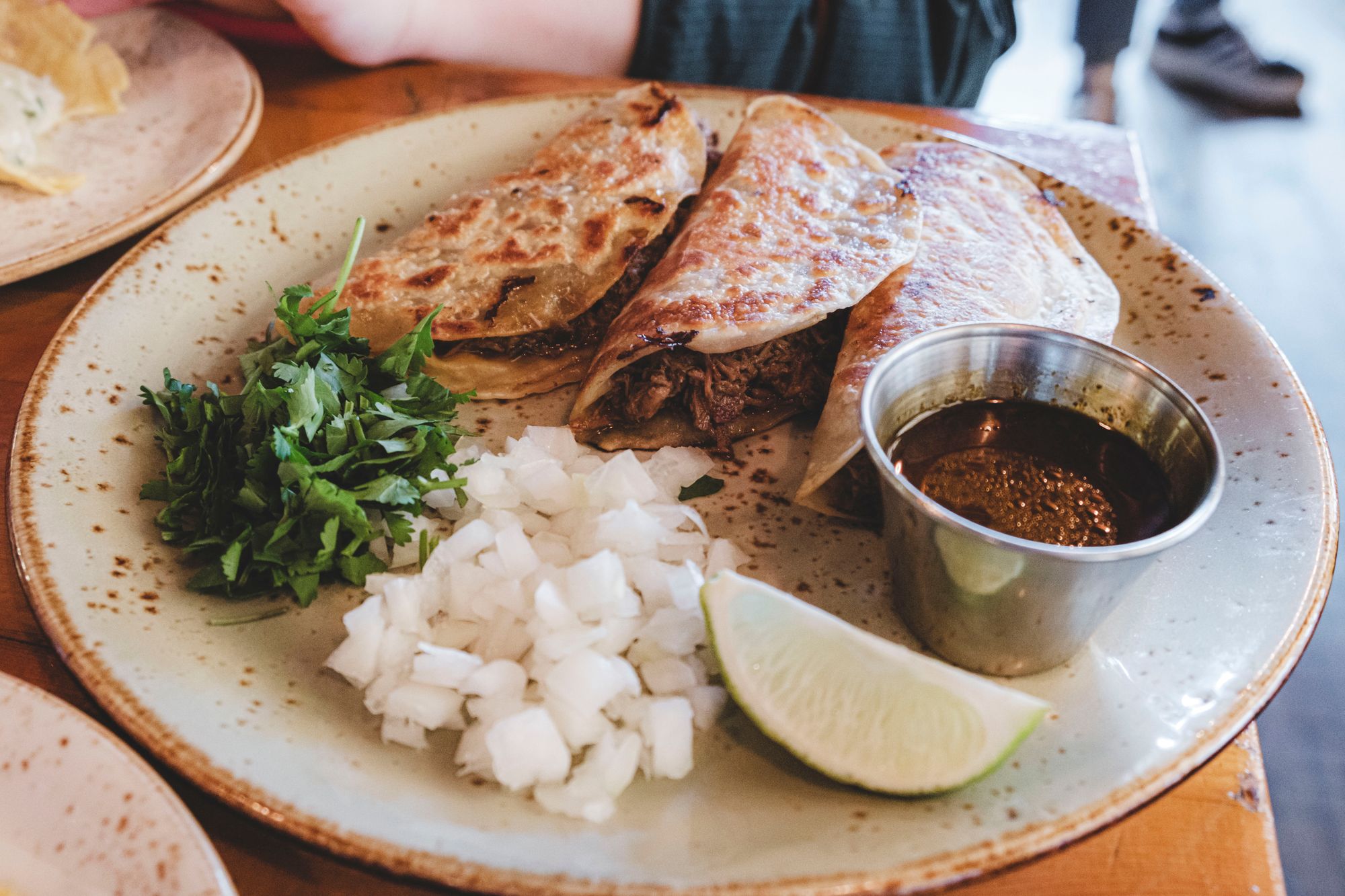 The most elevated Mexican dish we had was the lamb belly barbacoa. If you weren't aware, "barbacoa" is the Mexican version of barbecue and you could see the smokiness of the barbecue grill crystallized on the skin of this lamb belly. Just like everything else in our meal, this was served with a stack of house-made corn tortillas and the usual Mexican suspects of house-made refried beans, onion, cilantro, avocado, lime, and a tomato-based lamb salsa tatemada. The lamb belly was fatty in all the right places though you do have to watch out for some bones here and there.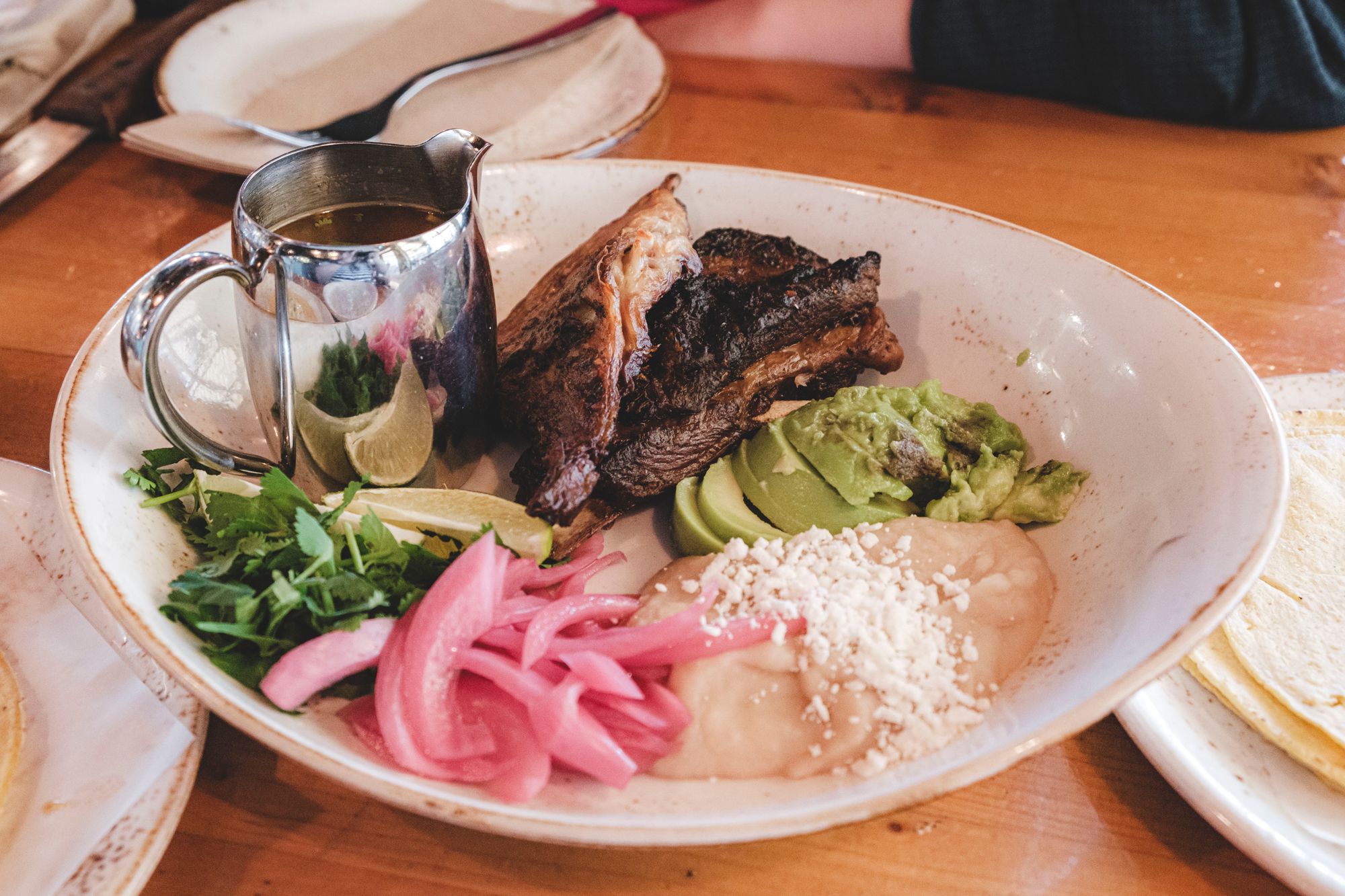 Knowing what I know now, I wouldn't order both the barbacoa and a taco dish. I would recommend seeing which items come with tortillas and basing your menu selection to not overload on the tortillas.
Features:
Alimentaria Mexicana takes up residence in the old Edible Canada address and it comes with a fresh coat of paint. The space looks a lot more vibrant, with tiki-style umbrellas, vivid colours on the walls, and a merch shop on the side with lots of their produce and imported goods for sale. There still remains the large open kitchen and thick wooden tables which in total seats about 80 guests. The patio was closed in this November weather but it looks like it would accommodate even more during the summer.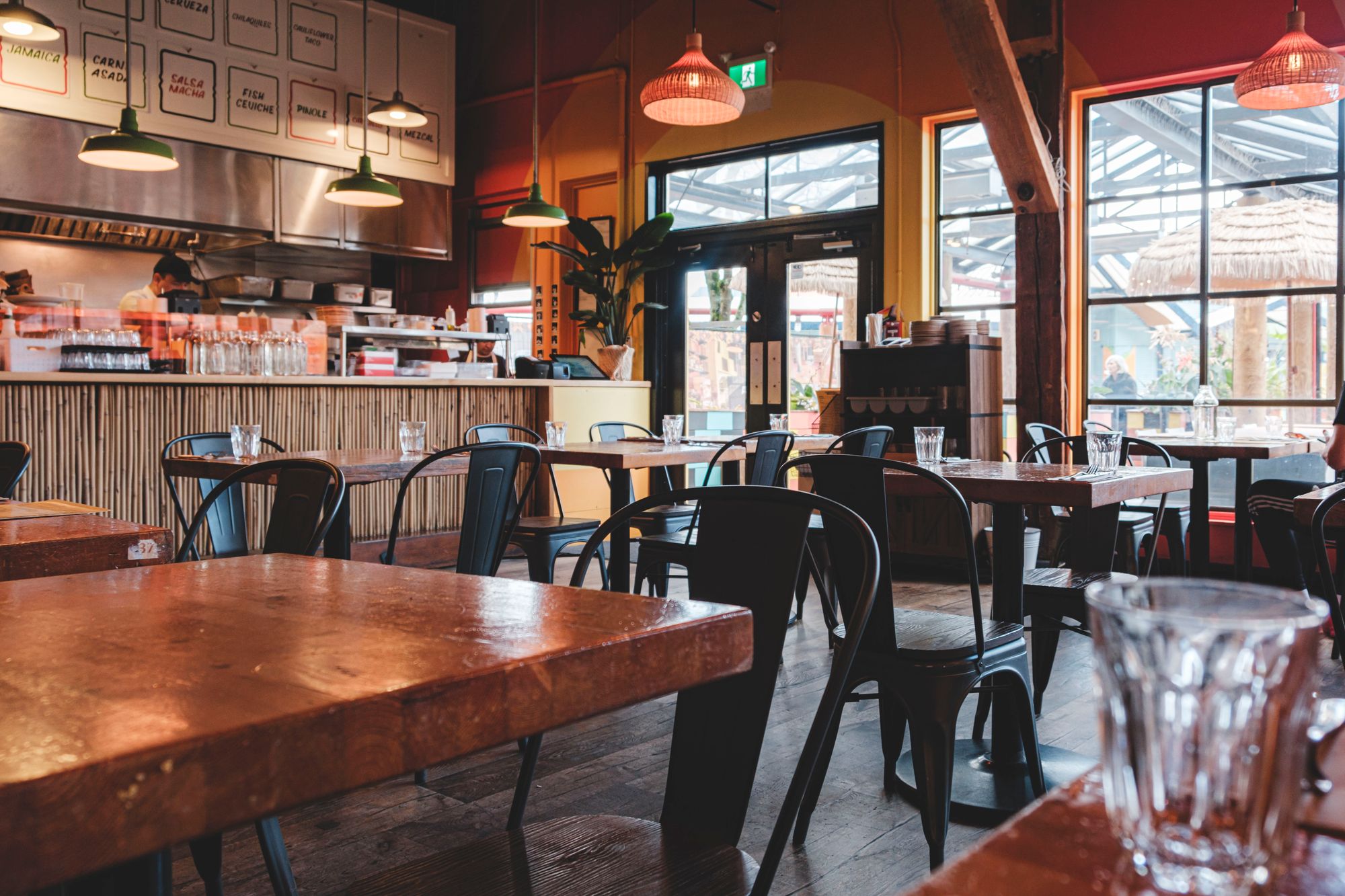 Service:
Service at Alimentaria Mexicana is also on the fancier side. Unlike Ophelia in Olympic Village, you get a fresh set of cutlery and napkins changed for you as you move from the appetizers to the entrees. Our server came by often to check on us, refill our water carafe, and never felt too far away in the very open dining space.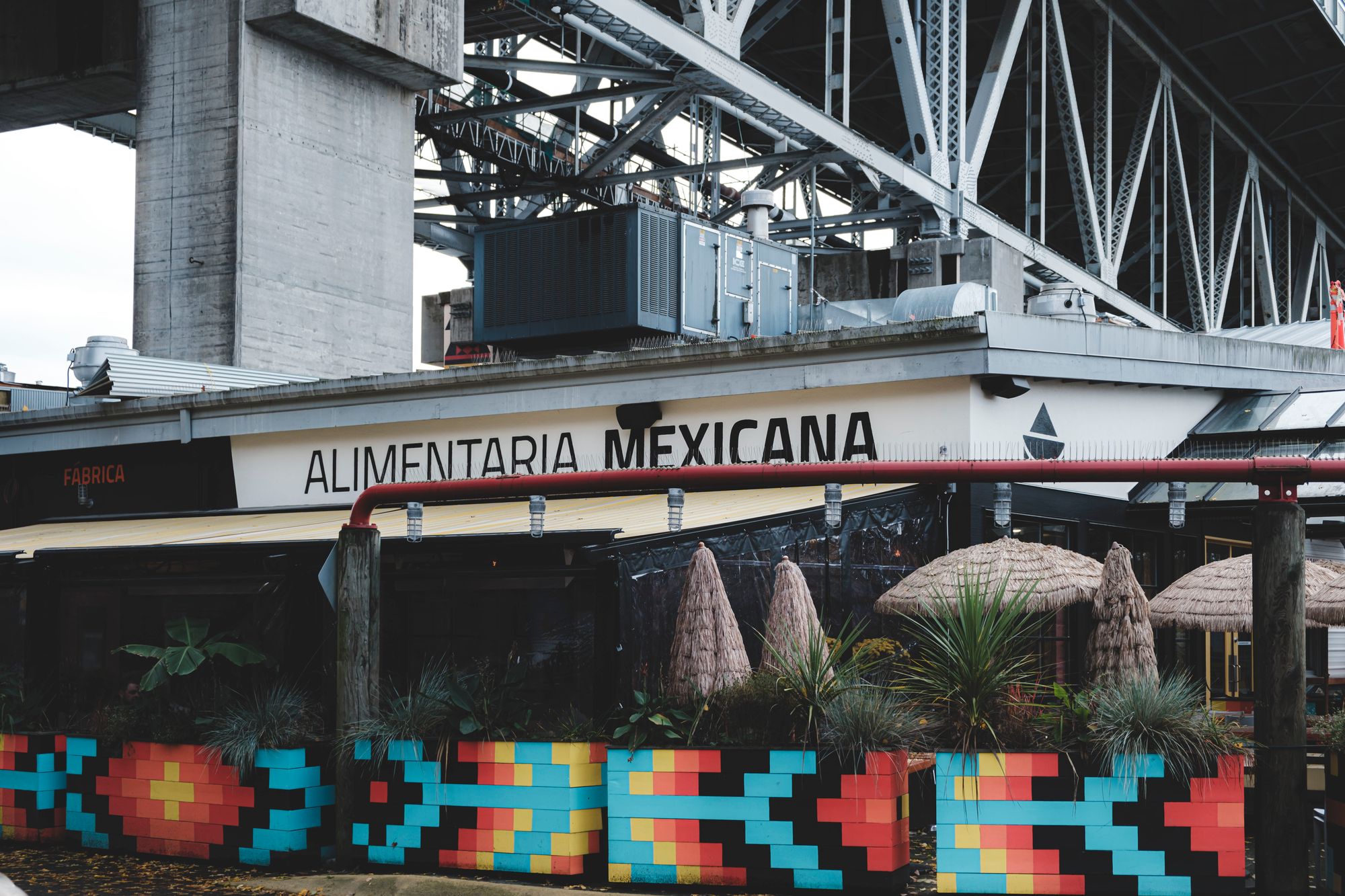 On a Saturday lunch hour, the restaurant was completely packed by 1pm. I'd recommend making a reservation to avoid disappointment, but seeing as you're on Granville Island, it wouldn't be too hard to make alternative plans if what you see at Alimentaria Mexicana doesn't look promising.
Final Thoughts:
One-liner: Elevated Mexican cuisine in possibly the best address on Granville Island
Highlight: Beef Birria Taco
Price per person: $40-$60
Would I go back? No.